Husband and wife duo to present two-piano concert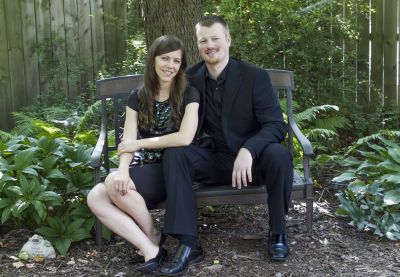 Rieth Chamber Series: Luke & Mary Rose Norell, duo-piano concert
Date and time: Sunday, Feb. 22, 2015, 4 p.m. (This event was rescheduled from Feb. 14)
Location: Sauder Concert Hall, Goshen College Music Center
Tickets: $10 general admission. GC students free with ID. Online at goshen.edu/tickets or (574) 535-7566
Husband and wife piano duo Luke and Mary Rose Norell will present a concert of music for two pianos in the Goshen College Music Center's Sauder Concert Hall on Sunday, Feb. 22. The concert will begin at 4 p.m. and is part of the 2014-15 Rieth Chamber Series.
*This event was rescheduled from its earlier date of Feb. 14*
Luke and Mary Rose, also known as the Norell Piano Duo, will present a program specifically crafted for two pianos. The program will include performances of Mozart's "Sonata for Two Pianos in D Major, K. 448," Lutoslawski's "Variations on a Theme by Paganini," and Rachmaninov's "Symphonic Dances."
Both on staff at GC's Community School of the Arts, Luke and Mary Rose respectively have doctoral degrees in performance from Indiana University – Bloomington and Northwestern University (Ill.). Mary Rose grew up studying piano with then-GC professor Marvin Blickenstaff.
Tickets are $10 for general admission and are available for pre-sale online at goshen.edu/tickets or by phone at (574) 535-7566. Goshen College students are free with ID.
The Rieth Chamber Series features six concerts by outstanding organists and chamber music ensembles including the Telegraph Quartet, Spektral Quartet and St. Alban's Organ Competition winner Simon Thomas Jacobs, plus a bonus concert with reception for series subscribers only. Music Center Executive Director Marcia Yost explains that series supporters "will provide support for ongoing, accessible classical chamber music at Goshen College, as well as aid in establishing a reputation with performing artists for appreciative Music Center audiences." More information about this series is online at www.gcmusiccenter.org/concerts/riethseries.