From Goshen to Ecuador and back: GC professor and family straddle two worlds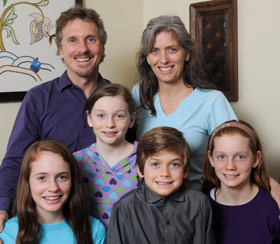 Goshen College Professor of Economics Jerrell Ross Richer and his family are about to embark on a new adventure in January.
Jerrell, Jane, and their four kids, Sierra, Naomi, Teresa and Jordan, will be serving with Mennonite Mission Network in Ecuador, where they will live and work in the eastern rainforest region with indigenous peoples and the Ecuadorian Mennonite church.
Unique to this placement, however, is its dual-location nature. In the winter and spring of each year, the Ross Richers will focus on developing educational programs and work closely with indigenous pastors and church leaders in Ecuador. In the summer and fall, they will return to Goshen to teach at the college and share what they have learned.
When he returns to campus in the fall, Jerrell's economics classes will continue to focus on sustainability, faith and international development. Bringing first-hand knowledge and experience, he will teach undergraduate and graduate classes, as well as leading off-campus and online courses throughout the year.
Supported by six congregations in Indiana, Michigan and California, the Ross Richers' placement continues the Ecuador Partnership (Mennonite Mission Network, Central Plains Conference and the Colombia Mennonite Church) ministries with indigenous churches. Their family attends Waterford Mennonite Church in Goshen.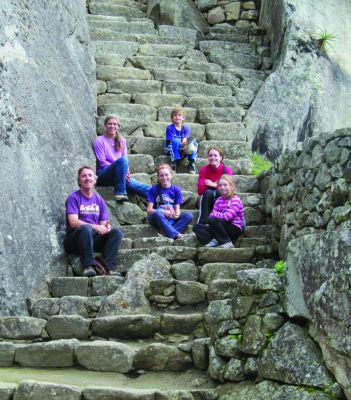 In Ecuador, the Ross Richers' work with indigenous Ecuadorian people will focus on themes of economic justice, creation care, and women and children's rights. They will also work with community-led proposals of programs to support women and youth development.
The Ross Richers are no strangers to travel: they spent 10 semesters leading Goshen College Study-Service Term (SST) groups in Peru, which borders Ecuador, in 2009 and 2013. While there, they got to know many indigenous people.
"I really appreciate the way that they think outside the box," Jerrell said. "The indigenous people that we had a chance to meet have a different worldview, and it's really refreshing."
Jerrell explained that indigenous people are less interested in individualistic forms of salvation, but rather "evangelio integral," the closest translation being a "holistic gospel." They want salvation and healing for their whole communities: justice, dignity and rights, a "preservation of their own unique, native identity," he added.
"Our hope is not to go and impose a North American version of Christianity," says Jerrell, "but to literally walk alongside our indigenous sisters and brothers, and together discover what it means to follow Christ in their unique context."
Goshen College students will have an opportunity to study in Ecuador this May with a course titled Ecological Economics in Ecuador taught by Jerrell.
– By Katie Hurst