Goshen College students earn honors at state singing competition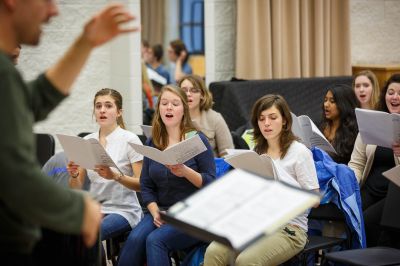 Goshen College sent 13 vocalists to compete at the annual National Association of Teachers of Singing (NATS) competition at Indiana Wesleyan University on Nov. 1, 2014. More than 300 singers competed at the event.
Four GC students placed in their divisions: Cecilia Lapp Stoltzfus, an interdisciplinary major from Mount Ranier, Maryland, earned second place in the second year college women division; Aaron Graber, a biology and music double major from Los Gatos, California, earned second place in the second year college men division; Paul Zehr, a senior music and theater double major from Carthage, New York, earned third place in the third year college men division, and Joshua Bungart, a music major from Three Rivers, Michigan, earned second place in the mature beginner division.
"All our students gave strong performances, and it is a testament to the quality of our vocal program that such a high percentage placed in their category," said Scott Hochstetler, associate professor of music. "We are so proud of their talent, dedication and love for singing."
The NATS competition is an annual event that draws students from colleges and universities across the state, including Anderson University, DePauw University, Ball State University, Indiana University and others. Each student competed in divisions separated according to age and year, with various subgroups within each division. Along with the students, professor of music Debra Brubaker, Hochstetler, and adjunct voice professors Rebecca Dengler Kaufman and Sandy Hill attended and served as judges. Accompanying the students on piano were Christine Larson Seitz and Chara Sonntag.