Afternoon Sabbatical series opens with reflections on life and career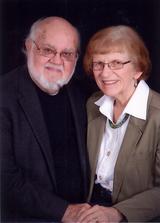 Afternoon Sabbatical: "Goshen College Called and Set the Course," by Abner and Anne Hershberger
Date and time: Tuesday, Sept. 16, 2014 at 1 p.m.
Location: Goshen College Music Center's Sauder Concert Hall
Cost: Free and open to the public
The 2014-15 Afternoon Sabbatical series will begin with compelling stories from Abner and Anne Hershberger, former Goshen College professors, on Tuesday, Sept. 16, at 1 p.m. in the Music Center's Sauder Concert Hall.
Afternoon Sabbatical is an annual series that connects the community and college through on-campus programs and bus tours that draw on the expertise of Goshen College faculty and community members.
Abner Hershberger, a retired professor of art, and Anne Hershberger, a retired professor of nursing, have 70 years of combined teaching experience on the Goshen College faculty.
They will present a program that highlights the ways Goshen College shaped their personal and professional journeys. Their stories will be accompanied by visuals on screen, including selective works of visual art.
The presentation's title, "Goshen College Called and Set the Course," stems from two fateful phone calls the Hershbergers received.
"Both Anne and I were contacted by phone to consider teaching at Goshen College," Abner said. "Our response determined the direction for our lives."
After graduating with an art degree from Goshen College in 1960, Abner taught in the Elkhart and Goshen public school systems. He earned a master's degree in teaching from Indiana University in 1965 and a Master of Fine Arts from the University of Michigan in 1970.
He taught art at Goshen College for a total of 34 years and spent 25 years as the chair of the art department. Although he retired in 1999, Abner continues to actively produce art.
Anne, originally from Louisville, Ohio, graduated from Goshen College with a nursing degree in 1958. She worked on a medical-surgical unit at Mercy Hospital in Canton, Ohio, and later as a school nurse in Elkhart Community Schools.
She earned a master's degree in nursing from Wayne State University in 1962, specializing in teaching maternity nursing. Anne began teaching at Goshen College that fall and continued as a professor for the next 36 years. She taught classes in maternal-newborn nursing, healthcare ethics and human sexuality.
Anne edited and authored several chapters of two editions of the book "Sexuality: God's Gift," published by Herald Press in 1999 and 2010.
Anne and Abner married in 1963 and currently live in Goshen. They have two daughters, Kay Hershberger and Sue Hershberger Yoder, and two grandchildren.
Future programs in the 2014-15 Afternoon Sabbatical series include:
Tuesday, Oct. 14, 2014, noon, Church-Chapel Fellowship Hall
International Luncheon: "Portugal and Spain: Common Neighbors with an Uncommon Past," by Dean Rhodes and Annette Johnson
Cost: $20. Call (574) 535-7565 to register before Oct. 3. $5 late fee.
Saturday, Oct. 25, 2014, Fall Bus Trip
Bus trip to Chicago to see Amazing Grace is sold out. Call (574) 535-7565 to be on the waiting list.
Tuesday, Nov. 11, 2014, 1 p.m., Music Center's Sauder Concert Hall
"A Sampling of Broadway Musicals," by Susan Hepler Long and Jennie Sophia.
Free and open to the public.
– By Kate Yoder