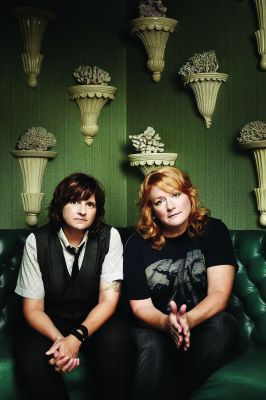 Performing Arts Series Concert: Indigo Girls with opening act Angaleena Presley
Date and time: Saturday, Sept. 13, 2014 at 7:15 p.m.
Location: Goshen College Music Center's Sauder Concert Hall
Cost: $44/$40/$28
For tickets or information: THIS CONCERT IS SOLD OUT. Visit www.goshen.edu/tickets, call (574) 535-7566 or email welcomecenter@goshen.edu to be put on a waiting list.
Website: www.indigogirls.com
The soothing voices and strong harmonies of Indigo Girls are coming to Goshen College's Sauder Concert Hall on Saturday, Sept. 13 at 7:15 p.m., the opening concert in the college's Performing Arts Series.
Known for their soulful lyrics, the Indigo Girls—Amy Ray and Emily Saliers—deliver well-crafted songs that are both spirited and simple. Their voices "soar and swoop as one, alternately raucous and soothing," said Rolling Stone.
Now decades into their career, the Indigo Girls have been electrifying audiences since the late 1980s, when Saliers and Ray began performing together in high school. In 1989, their career took off, and the duo has been touring ever since. They have traveled from Atlanta to London to New York City, selling over 12 million records and earning a Grammy along the way.
The New York Times praised their "commitment to efficient folk songcraft, thick with beautiful, aching, narcotic harmonies."
The Indigo Girls have earned a devoted fan base thanks to their dedication to songwriting as well as social and environmental causes.
Opening for Indigo Girls is Angaleena Presley, a singer/songwriter out of Nashville who also performs as part of Pistol Annies along with Miranda Lambert and Ashley Monroe.
THIS CONCERT IS SOLD OUT. Tickets cost $44, $40 and $28. To be put on a wait list, contact the Goshen College Welcome Center by calling (574) 535-7566, or emailing welcomecenter@goshen.edu.
Seating for those with disabilities is available. Tickets are nonrefundable.
The Goshen College Performing Arts Series debuted on Sept. 21, 1997. Since then, the college has hosted more than 100 concerts by some of the world's greatest performers as part of the program.