Class of 2014 sustains Goshen College's 'Culture for Service'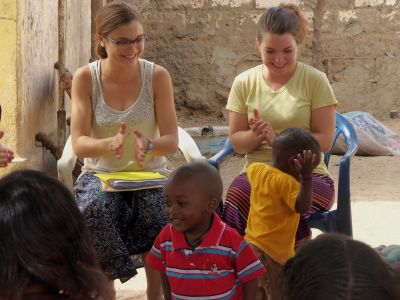 Since high school, Maddie Ruth has been determined to spend a year of service abroad. Now that she has graduated from Goshen College with a degree in music and psychology, she has the opportunity to pursue her dream. 
Ruth will volunteer for one year in Chad with Mennonite Central Committee's Serving and Learning Together (SALT) program. She will serve as an English language instructor at Village Altonogji, a boarding school for orphaned children.
"My Study-Service Term (SST) in Senegal two years ago was such an amazing and educational experience," Ruth said. "I couldn't imagine leaving it at that."
Ruth will join a long legacy of service at Goshen College. Nearly one-third of all GC alumni have completed a voluntary service term of more than six months since graduating, according to a 2010 survey.
The class of 2014 is no exception—14 percent of this year's alumni have reported plans to do service following graduation.
These graduates will serve on farms, in schools and in communities around the globe with many organizations, including Americorps National Civilian Community Corps (NCCC), Jubilee Partners, Mennonite Voluntary Service (MVS), Pittsburgh Urban Leadership Service Experience (PULSE), Serving and Learning Together (SALT), Teach for America, United Methodist Church and World Wide Opportunities on Organic Farms (WWOOF).
Forty percent of 2014 graduates who have already accepted a service assignment are committing to serve for one or more years at their location.
Scott Barge, director of assessment and institutional research at Goshen College, believes that voluntary service "absolutely" prepares graduates in ways that going directly into the workforce does not.
"In a volunteer setting," said Barge, "young people have the opportunity to do things beyond their pay grade."
He explained that since nonprofits are often understaffed, volunteers are offered beneficial work experiences they might not be qualified for elsewhere, like working with company budgets.
Barge, a 1999 GC graduate, spoke from personal experience. He volunteered in Lithuania for three years before attending graduate school at Harvard University.
He believes voluntary service can help people to evaluate future jobs to make sure they align with their personal values.
"Volunteering also sharpens your ability to find a job that's meaningful in ways other than a paycheck," said Barge.
2014 GC graduates will be serving around the world. Newlyweds Phil Scott, an art major, and Emma Gerig, an interdisciplinary major, will be volunteering on organic farms in New Zealand.
Three graduates who went to Cambodia on SST in 2013 will be serving in Cambodia with the SALT program: Audrey Thill, a sociology and peace, justice and conflict studies double major; Sara Klassen, a peace, justice and conflict studies major; and Henry Stewart, a music and molecular biology/biochemistry double major.
However, most graduates will be serving in locations in the United States.
Kate Friesen, an English major, will volunteer at Jubilee Partners in Comer, Georgia. This intentional Christian service community works with refugees from all over the world.
"My SST experience in Morocco helped foster a love of cross-cultural learning," Friesen said, "but I also realized that I'm most capable doing service in a more localized context—in a place where I already know the language and some of the culture."
At Jubilee Partners, Friesen will be teaching English and gardening—a mix of two of her passions.
"To me," Friesen said, "embracing service after college seems like a good way to make new connections, learn more about what type of work I find most rewarding, hone skills, and most of all, give back in a way I didn't necessarily have time to do in school."
–  By Kate Yoder '15