First time abroad, GC student feels at home around the world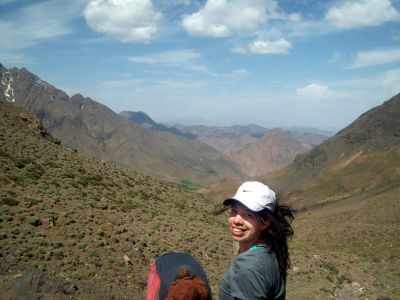 "My favorite place in the world," said Andrea Medina, a Goshen College senior social work major from Goshen, "is Alhambra, an ancient Islamic palace in Granada, Spain."
Before visiting Spain, Medina had never been outside the United States. The beauty of the palace profoundly affected Medina, but not just because of the intricate Islamic architecture and the sprawling view of the city.
"I wasn't there on my own," said Medina. "This trip was the first time anyone in my family has traveled overseas. I look back on how my parents migrated to the United States from Mexico, and I have such an appreciation to be where I am and for my parents and their efforts. I felt like I was traveling for them."
She was among 22 students who participated in Goshen College's May term history course in Spain and Morocco. Alhambra was one of the many historical sites that the students visited.
Standing on the topmost tower of her favorite place in the world, Medina scanned the 360-degree view of the city. Taking in the magnificence of the moment, she thought of her family in Goshen.
Medina's parents and two siblings were supportive of her decision to study abroad. But as a commuter student, Medina had never been away from her family for longer than a few days at a time.
"Before I left, I had a mix of emotions," said Medina. "I was nervous, scared, and didn't want to leave my parents. I didn't know what to anticipate, but I knew I had their support."
While in Spain, Medina felt at home with the Spanish language and Catholic culture. Morocco, however, was rich with unfamiliarity. Instead of allowing the fear of a new experience frighten her, she embraced it with awe and willingness to learn.
"I had an attitude to take in as much as possible," said Medina. "I didn't know I was like that."
Growing up in Goshen
Medina was born in Chicago but raised in Goshen. As a student at Goshen High School, she had dreams of attending college somewhere far from home.
"I never wanted to go to Goshen College growing up," she said. "But once I visited campus, I fell in love with it."
A primary influence in her decision came when Medina was awarded the college's CITL (Center for Intercultural Teaching and Learning) scholarship. The scholarship is awarded to first generation Latino students with leadership potential who are dedicated to giving back to their community.
Most of Medina's college experience was spent in class or commuting to and from campus. It wasn't until the fall of her junior year that Medina considered studying abroad.
Becoming a global citizen
One day, as Medina and her friends chatted in the commuter lounge on campus, an older woman introduced herself as a visitor and joined into the conversation. Wanting to learn more about the college, she asked Medina and her friends why they hadn't participated in Study-Service Term, the college's 13-week immersion program that focuses on international and intercultural understanding. They answered collectively: "the money."
The woman's next words, for Medina, were life changing.
"She said that money would always be an issue throughout all our lives. But that we should invest in traveling while we're young and we have the opportunity," said Medina.
In that moment, Medina decided to sign up for the Spain and Morocco May term course. Soon after, she moved on campus to nurture relationships and seek more fulfilling experiences.
The Spain and Morocco experience was an integral part of Medina's growth, but her motivation to embrace the culture also had an effect on other students and, specifically, Spanish professor Dean Rhodes, who led the course in Spain and Morocco.
"She was the type of student that I like to have in this course since everything was so meaningful to her and she was such an eager learner," said Rhodes. "While language was not a barrier for her in Spain, it was in Morocco, but this made no difference to her. She still interacted with the Moroccan families and treated them with respect and appreciation."
During her senior year, Medina plans to pursue a social work internship in Chicago. She's also planning a trip to Puerto Rico this month and to Pakistan in December.
Although she's unsure what the future will hold, she is concentrating on living fully wherever she is.
"I don't want to spend a moment of my life being unhappy," said Medina. "The Spain and Morocco trip gave me a boost to continue doing that."
— By Liz Core '14