On call in Nepal: GC nursing students gain experience abroad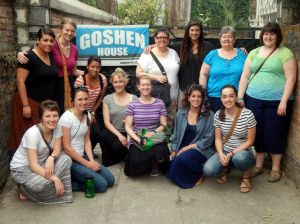 Goshen College nursing students, with the help of a GC nursing alum, experienced the realities of nursing abroad and found new "sisters" during a May term class in Nepal.
Beth Beels, a 1975 GC graduate who has served as a teacher, nurse and service worker in Nepal multiple times since 1977, met the 11 nursing students for the first time in the Kathmandu airport on May 29. She had high hopes that they would embrace the culture openly and learn from their surroundings.
Two years ago, Beels approached the Goshen College Nursing Department about the possibility of bringing a GC nursing class to Nepal.
The nursing department approved the proposal, and the Nursing in Nepal class became the first Goshen College international nursing course and fulfilled Beels' life-long dream of bringing GC nursing students to learn and live amongst Nepali students.
Beels grouped Goshen College and Nepali students in pairs, calling them sisters and hoping that it would initiate a bond that spanned cultural, religious, educational and age-based differences.
"Many people from the United States come to Nepal and then just leave," said Beels. "So I thought, I'm going to prepare Nepali and Goshen students to act like sisters. I wanted to emphasize relationships."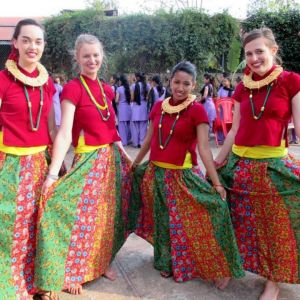 The students served in the Tansen Mission Hospital, which is considered to be one of the best nursing schools in Nepal, and is located in the central hills of the country. Shakuntala Thanju, one of Beels' Nepali nursing students from the 1970s, directs Tansen Mission Hospital. Thanju is also the mother of GC nursing student Ashika Thanju, who participated in the Nursing in Nepal class.
Within the first few days, the GC women showed Beels their willingness to welcome new experiences and embrace relationships with Nepali students and faculty.
"GC students more than met my expectations," said Beels. "I was surprised that no students complained about the heat, the food or the conditions."
The students worked as pairs throughout most of their time at Tansen. Sometimes, the units functioned smoothly. Other times, like sisters, their viewpoints clashed and they had to work through disagreements to reach a solution. 
Learning difficult lessons
The trip was not without heartbreak. More than 10 patients died in Tansen Mission Hospital within the two-week period that GC students served and learned there.
"For some, it was a hard reality to accept that we really couldn't change things," said Gail Weybright, a 1995 GC graduate and associate professor of nursing, who co-taught the class. "There was some significant heartache for some, something that I didn't anticipate."
"There were tears," said Beels. "I told them that when you save a baby from a burning building, you might get a few burns yourself. When you're helping people who are hurt, you may feel hurt yourself."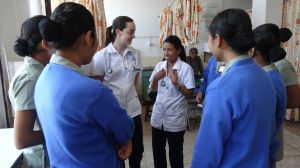 The difficult times were diffused by many enriching moments. At the end of their stay, the GC students showed their appreciation through a song and dance performance and invited the Nepali students on stage.
"I learned the importance of humble service," said Irene Schmid, a junior from Dalton, Ohio. "It would have been easy to go to Nepal and make it seem like we were serving the Nepalis, but in reality they were serving us just as much, if not more."
Beels feels grateful that she was able to realize her own goal and inspire the students. "This was a learning experience for both groups of students," she said.
Beels hopes that the Nursing in Nepal course will continue to create positive relationships between U.S. and Nepali students in the future. She also encourages more nursing educators to teach in Nepal, as it has a lack of instructors.
For Beels, Weybright and the students, the trip was both successful and life changing.
"I was sometimes moved to tears by the level of the students' sensitivity, passion, professionalism, compassion and desire to make a difference," said Weybright.
—By Liz Core '14