Humans of Goshen Project celebrates local diversity
If your life were a story, what would it be called?
This is a question that Sara Klassen often asks the people she interviews for her newly launched story collection project, Humans of Goshen.
Although Klassen received academic credit for much of her work, her initial reason was purely a passion for people. Modeled after the popular photo blog Humans of New York, Humans of Goshen is a peace-building photography project that acts as a platform for community storytelling.
Klassen, a 2014 Goshen College graduate, pioneered the project to highlight diversity in Goshen's population. She and the primary photographer, Alex Pletcher, have documented dozens of stories through photos and interviews. They are hopeful that the project will spur further questioning, listening and understanding in the community.
Klassen began the interview process last summer with the help of the sub-committee for the Human Relations Commission (HRC), a humans rights group appointed by the Goshen City Council. With a list of names to begin with, Klassen visited individuals to personally conduct in-depth interviews. She didn't know where they would lead, nor did she try to direct them. She asked open-ended questions, turned on her recorder and simply listened.
"Really I just enjoy sitting and listening to people talk, asking questions," said Klassen. "I think it is an honor we don't often give even to the people closest to us—to share that much of our time just intently listening."
The photos and stories went public when Klassen commissioned PixelDance, a web developing company created by two Goshen College students with an entrepreneurship grant, to design a website. She also created various social media pages and recently hosted two community events.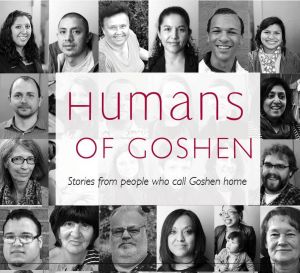 The first was held on June 7 during First Fridays in downtown Goshen. The event was a kick-off celebration and exhibition located on the second floor of the Spohn building on East Clinton Street. Small poster-sized portraits were hung on hallway walls in straight rows. Visitors meandered from portrait to portrait and lingered at each face to read their stories, some guests smiling slightly and others with furrowed brows. Although the portraits were arranged like artwork in a museum, guests responded to them as if interacting with a good book, or even a good friend.
The main display was held the following day, June 8, in conjunction with the Arts on the Millrace event. The photos and stories were attached to posts and staked along Goshen's millrace trail.
According to Klassen, Humans of Goshen is more than a photography project. Her idea is to give Goshen citizens a place to tell their stories, get to know one another and make Goshen feel like home to every resident.
"Every person that you pass has a story, has multiple stories," said Klassen. "Even the stories you might ask them about, there are more before and after and in between those that you don't even know."
Among the Goshen residents who Klassen has interviewed, a number have lived in Goshen for decades. Some emigrated from other countries within the past few years. Some spoke of their hardships and painful encounters, others of their hopes, dreams and faith. All of them, however, have found a home in Goshen.
"If you're attentive to people when you're talking to them, you can tell when they're talking about something that really matters," she said. "To ask about that in tender ways can really reveal a lot of beautiful, sometimes sorrowful, stories. But those are what make us most human and lovely."
Klassen invites anyone interested to conduct interviews. She welcomes submissions, portraits, suggestions, comments and questions. To read the stories or to learn how to get involved in the project, visit humansofgoshen.com.
-By Liz Core