Community School of the Arts spring concert to showcase three youth choirs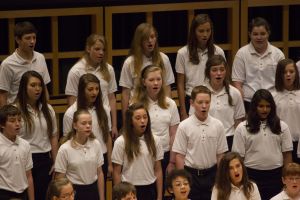 Concert: Community School of the Arts Spring Showcase Concert
Date and time: Sunday, May 4, 2014, 4 p.m.
Location: Music Center's Sauder Concert Hall
Cost: $7 adults, $5 seniors/students. GC faculty/staff/students free with valid ID.
Three Community School of the Arts (CSA) youth choirs will perform as part of the CSA Spring Showcase Concert on Sunday, May 4 at 4 p.m. Graduating high school senior and CSA flute student Karis Neufeld will also perform during this concert, which will be held in Sauder Concert Hall in the Goshen College Music Center.
Featured choirs include Rejoice (grades 3-5), directed by Kristin Kauffman; Shout for Joy (grades 6-8), directed by Sandy Hill; and the High School Honors Choir (grades 9-12), directed by Marcia Yost. The choirs will perform as individual ensembles as well as together in a combined choir of approximately 100 voices.
The performance includes anthems, folk and gospel songs, and will feature African drumming and song in the all-choir conclusion of the concert. Included in this annual spring program is CSA's featured student soloist Karis Neufeld, performing "Fantaisie Pastorale Hongroise" by Franz Doppler, accompanied by pianist Chara Sonntag.
Tickets are $7 adults, $5 seniors/students, available at the door beginning one hour before the concert.
Auditions for new members in all three choirs for the 2014-15 school year will be held on Sunday, May 18 from 2 – 4 p.m. at the Goshen College Music Center. All interested students currently in grades 2-11 are invited to come for a short audition with the appropriate choir director any time between 2 and 4 p.m. While no advance preparation is needed for students in grades 2-7 to audition, students in grades 8-11 are asked to bring a piece with them that they are prepared to sing. Information about registration for next year's choirs will be available at the auditions.
The mission of the Goshen College Music Center is "Enriched lives and enhanced community through quality artistic programming and educational opportunities for all." The Community School of the Arts serves hundreds of community families each season, offering private lessons, three youth choirs, four orchestras including the Elkhart County Youth Honors Symphony and Concert Orchestras, and Music Together classes for preschool children in Elkhart County. Need-based scholarships are available for every CSA activity.
For more information, please visit www.gcmusiccenter.org or call the Music Center office at (574) 535-7361.