Fleur de Lys to recreate baroque experience at Goshen College April 13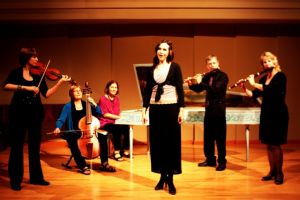 Concert: Rieth Chamber Series: Fleur de Lys Baroque Ensemble
Date and time: Sunday, April 13, 4 p.m.
Location: Rieth Recital Hall
Cost: $10 general admission. Tickets available at the Goshen College Welcome Center: (574) 535-7566 or welcomecenter@goshen.edu.
Fleur de Lys, a baroque music ensemble based at the University of Notre Dame, will present a concert in the 2013-14 Rieth Chamber Series on Sunday, April 13 at 4 p.m. in the Goshen College Music Center's Rieth Recital Hall.
For nearly two decades, Fleur de Lys has performed with clarity and precision on original instruments of the 17th- and 18th-centuries. The baroque ensemble, which has performed regularly at St. Mary's College and the University of Notre Dame, includes founding members Darlene Catello on harpsichord and Mary Anne Ballard on viola da gamba, along with soprano Danielle Svonavec, baroque flutist Korin Schilling, and baroque violinist Tamara Albahari. Their inspiring performances seek to emulate the purity of tone valued by musicians of that time.
General admission tickets are $10, available through the Goshen College Welcome Center at (574) 535-7566 or welcomecenter@goshen.edu. Tickets will also be sold as available at the door beginning one hour before the concert.
This concert is the fifth in Goshen College's new Rieth Chamber Series, committed to bringing high quality chamber and organ music to the Music Center's performance halls, and is made possible in part by donations of this inaugural year's season subscribers.
Upcoming Rieth Chamber Series events include a performance by Spektral Quartet with bandeonist Julien Labro (Sunday, May 17). More information about this series is available online at www.gcmusiccenter.org/concerts/riethseries.