From Goshen to the Gates Foundation: Joyce Bontrager Lehman to speak at 116th commencement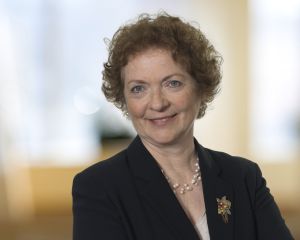 Joyce Bontrager Lehman, a financial consultant, past program manager at the Bill and Melinda Gates Foundation and former Goshen College professor, will be the speaker at Goshen College's 116th commencement ceremony on Sunday, April 27 at 3 p.m. in the Roman Gingerich Recreation-Fitness Center. Her speech is titled "The Imperative of Providence."
This year there are 225 undergraduates and 18 master's degree candidates scheduled to receive diplomas at commencement.
___________________________________________________________________________________________
Check out the graduation webpage for a full schedule of events and other helpful information about graduating and Commencement Weekend.
___________________________________________________________________________________________
Bontrager Lehman has worked in international economic development for the past 15 years, currently as an independent technical advisor to donor organizations that fund projects with a focus on financial inclusion. She is particularly interested in how technology, especially the ubiquitous mobile phone, can be used to provide impoverished people in developing countries access to convenient and affordable formal financial services. In the past few years, she has worked with the Aga Khan Foundation, the MasterCard Foundation, the United Nations Capital Development Fund, the United States Agency for International Development and the World Bank.
From 2008 to 2012, Bontrager Lehman was a program officer on the Financial Services for the Poor team at the Bill and Melinda Gates Foundation in Seattle. There she managed a $100 million grant portfolio that funded projects throughout the developing world, including funding to support the establishment of national mobile payment platforms in Bangladesh and Pakistan.
Bontrager Lehman began her career in international development with the Mennonite Economic Development Associates (MEDA), providing training and consulting services to microfinance institutions in more than 25 countries and serving as a faculty member at leading microfinance training institutes held in the United States, Europe and South Africa. From 2003 to 2007, she spent most of her time in Afghanistan working with the World Bank, USAID and other bi-lateral donors to help establish and support a microfinance sector there.
Prior to joining MEDA, Bontrager Lehman was in private practice as a Certified Public Accountant and for 2 years (1997-1999) taught business courses at Goshen College. She now refers to her years at Goshen as an important time of transition from a career in private practice to her current profession.
A 1965 graduate of Eastern Mennonite University, Bontrager Lehman lives in Keene, N.H. and attends the Mennonite Congregation of Boston.
Schedule of Goshen College's 116th Commencement Weekend activities:
Saturday, April 26
1:30 p.m. – Nurses' Pinning Ceremony, Church-Chapel
2-5 p.m. – Department receptions – graduates and families meet informally with professors (exact times and locations to be announced by departments)
7:30 p.m. – Senior Class Program, Music Center's Sauder Concert Hall

8:45 p.m. – President's Reception for graduates and families, Music Center lobby
Sunday, April 27
11 a.m. – Baccalaureate service, with address by President James E. Brenneman, Church-Chapel
3 p.m. – 116th Annual Commencement Ceremony, with address by Joyce Bontrager Lehman, Roman Gingerich Recreation-Fitness Center (no tickets needed). Live web streaming will also be available for those unable to attend.