April 1 Afternoon Sabbatical follows the footsteps of the Apostle Paul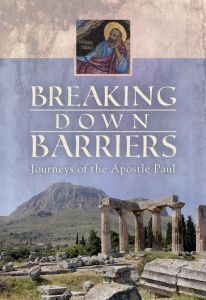 Afternoon Sabbatical: "Breaking Down Barriers: Journeys of the Apostle Paul" by Seth Conley, Kyle Hufford and Bob Yoder
Date: Tuesday, April 1, 2014, 1 p.m.
Location: Goshen College Music Center's Sauder Concert Hall
Cost: Free and open to the public
Explore how Paul overcame religious, cultural and physical obstacles as a leader of the first generation of Christians during Goshen College's Afternoon Sabbatical on April 1 at 1 p.m. in the Music Center's Sauder Concert Hall. The event is free and open to the public. 
Join Seth Conley, assistant professor of communication, Kyle Hufford, FiveCore Media general manager, and Bob Yoder, campus minister and assistant professor of youth ministry, as they present a behind-the-scenes look at the documentary "Breaking Down Barriers: Journeys of the Apostle Paul." Filmed and produced by Goshen College students, the documentary takes viewers through the journey of the Apostle Paul as he shared the Gospel of Jesus Christ. The film follows Yoder and David Sparks, director of Footstep Ministries, as they guide viewers through cities such as Philippi, Corinth, Rome, Athens and Thessaloniki.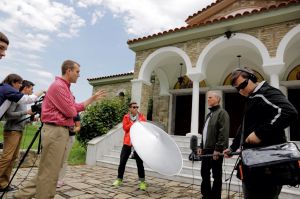 In May 2012, Conley and Hufford led a team of nine students through Greece and Rome for three weeks to collect footage exploring how Paul ministered to the Jews, non-believers and early churches. Since the filming, six additional students have worked on editing the documentary alongside producers Conley and Hufford.
"We want those who watch this film to gain a deeper understanding of the Gospel by following Paul's footsteps and exploring how he faced persecution, beatings and imprisonment," Conley said. "In spite of these hardships, Paul never failed to preach the message of Christ wherever he went."
The 30-minute documentary debuted in Goshen on April 17, 2013, and has since been picked up for distribution by Vision Video, a division of Gateway Films. DVDs of the documentary will be available for purchase after the Afternoon Sabbatical.