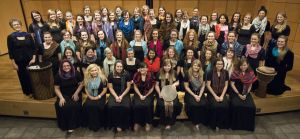 The Goshen College Women's World Music Choir will spend spring break touring and performing in churches and schools throughout Pennsylvania from Feb. 23-27, with a home concert on Sunday, March 2 at 7:30 p.m. in the Goshen College Music Center's Sauder Concert Hall.
The tour theme is "Songline: Community, Identity, Blessing," featuring music that celebrates the sustaining power of community, blessing and identity through taught and shared song.
"A songline is a thread of sound that connects us to those in our lives who have helped formulate and define who we are, by sharing their music and their influence with us," said Deb Brubaker, professor of music and director of the Women's World Music Choir. "Many of the songs in the tour's repertoire celebrate the community created by women at important times in their lives – sung lullabies, marriage, standing up for one's own individuality, recognizing the strength in the community of sisters surrounding them."
The music comes from places such as Yemen, Iraq, New Zealand, Mali, South Africa, Spain, Russia, the American South and Appalachia. The choir will perform songs in ten different languages, and there will be several opportunities during the program for the audience to join the choir in singing.
"Most of the songs center on work that women do in the world as makers of peace, creators and builders of families, experiences as daughters, brides, wives, mothers, leaders of communities," Brubaker said.
The Goshen College Women's World Music Choir was formed in the spring of 2004. Its goals are to discover and perform music of many cultures, both national and international, particularly indigenous cultures. The choir also serves to highlight the role of women in these cultures, celebrating the unique spirit and energy that women bring to the world as creators, sustainers and disrupters of life and culture.
Brubaker holds a Doctor of Musical Arts degree from the University of Kansas, a master's degree in music from the University of Northern Colorado and a bachelor's degree in music education from Goshen College. Since coming to Goshen in 1999, Brubaker has directed the Goshen College Chorale and Chamber Choir, and has created the Women's World Music Choir. She currently teaches in the areas of vocal and choral music. She was assistant professor of music at Bluffton (Ohio) University for 10 years and has taught choir in public schools in Indiana and Colorado.
The Goshen College Music Department offers a bachelor's degree with concentrations in music education, performance, piano pedagogy and music in worship. Seventy-five students major or minor in music and enjoy participation in five choirs, staged musicals and operas, orchestra, wind ensemble and jazz band. The Music Department is housed in the Goshen College Music Center, built in 2001. The Music Center features the 1,000-seat Sauder Concert Hall, the 300-seat Rieth Recital Hall, rehearsal and practice rooms, classrooms, teaching studios, a recording studio and an art gallery. The Community School of the Arts, located in the Music Center, provides teaching experience and leadership training for Goshen College students. The Performing Arts Series regularly brings prominent national and international musicians to the Music Center.
SCHEDULE
Sunday, Feb. 23 at 8:30 a.m. (First service)
Community Mennonite Church of Lancaster
328 W. Orange St., Lancaster, Pa.
Sunday, Feb. 23 at 11 a.m. (Second service)
Community Mennonite Church of Lancaster
Sunday, Feb. 23 at 4 p.m.
Akron Mennonite Church
1311 Diamond St., Akron, Pa.
Cookie reception following the program.
Monday, Feb. 24 at 9:54 a.m.
Lancaster Mennonite High School
2176 Lincoln Highway East, Lancaster, Pa.
Visitors check in at main office before 9:45 a.m.
Monday, Feb. 24 at 2 p.m.
Landis Homes, West Bethany Chapel
1001 East Oregon Road, Lititz, PA  17543
Lancaster, Pa.
Tuesday, Feb. 25 at 9:45 a.m.
Philadelphia Mennonite School
To be held at Tenth Presbyterian Church
10th and Spruce St., Philadelphia, Pa.
*Visitors should RSVP to alumni@goshen.edu
Tuesday, Feb. 25 at 7 p.m.
Blooming Glen Mennonite Church
713 Blooming Glen Road, Blooming Glen, Pa.
Cookie reception following the program.
Wednesday, Feb. 26 at 9:24 a.m.
Christopher Dock High School, Clemens Center Auditorium
1000 Forty Foot Road, Lansdale, Pa.
Please arrive by 9:15 a.m.
Sunday, March 2 at 7:30 p.m.
Home Concert
Goshen College Music Center
Sauder Concert Hall
Goshen College
Goshen, Ind.