State-ranked high school choirs to perform seasonal music for Dec. 10 Afternoon Sabbatical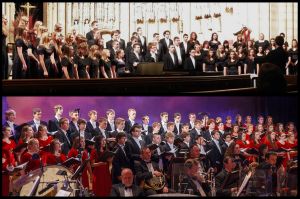 Afternoon Sabbatical: "Music of the Season" by Goshen and Fairfield high school choirs, directed by Marcia Yost and Ben Kambs
Date and time: Tuesday, Dec. 10, 2013, 1 p.m.
Location: Goshen College Music Center's Sauder Concert Hall
Cost: Free and open to the public
The Goshen and Fairfield high school choirs, directed by Marcia Yost and Ben Kambs, respectively, will provide a musical program for the Goshen College Afternoon Sabbatical on Dec. 10. The program will take place in the Goshen College Music Center's Sauder Concert Hall and is free and open to the public.
The two state-ranked choirs will present a delightful variety of seasonal choral music for the afternoon program, with selections ranging from the traditional to the unusual and from the sacred to the secular. The groups will combine for the "Hallelujah Chorus" and there will be some audience carols.
Yost is in her 31st year of directing choral music at Goshen High School and her 37th year of teaching music in Elkhart County. She also serves as director of Goshen College's Music Center. She received a bachelor's degree in music from the University of Indianapolis and a master's degree in music education and music history from Western Michigan University.
Kambs is in his 11th year directing the Fairfield junior and senior high school choirs. He is also the fine arts department chair and teaches AP music theory. Kambs studied music education at St. Olaf College and earned a master's degree in music education from Western Michigan University. He is active as a tenor soloist.
Future programs in the 2013-14 Afternoon Sabbatical series include:
Saturday, Jan. 18, 2014, Chicago Auditorium Theater
Chicago bus trip: 25th anniversary production of "The Phantom of the Opera"
Cost: $130. Includes coach travel, best-seating theater tickets and a box supper
Tuesday, Feb. 11, 2014, 1 p.m., Goshen College Music Center's Sauder Concert Hall
"The Globe — from Goshen to Times Square" by Jason Samuel, WGCS station manager
Free and open to the public
Tuesday, March 11, 2014, 1 p.m., Goshen College Music Center's Sauder Concert Hall
"Percussion a la Carte" by Dr. Christopher H. Fashun and Ben Runkel
Free and open to the public