Goshen College business students take top prize at MEDA competition, again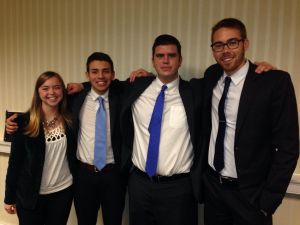 Goshen College business students won first place at the Student Case Competition during MEDA's (Mennonite Economic Development Associates) annual convention in Wichita, Kan., on Nov. 9. Goshen's winning team was comprised of Niles Graber Miller, a senior business major from Goshen; Karli Graybill, a senior accounting major from Goshen; Luis Lopez, a senior accounting major from Asuncion, Paraguay; and Josh Stiffney, a senior accounting major from Goshen.
The annual competition is hosted by MEDA for college and university students enrolled in a business-related program. This is the second consecutive year that the Goshen College team won the competition, and the third consecutive year that they were named a finalist. Goshen College teams have also won the competition several times in earlier years.
"The business department's focus on real-world application equips students with the tools to do well at this sort of case competition, where an actual business is looking for real, relevant, thoughtful insight on growing a sustainable business," Graber Miller said.
Teams from six different schools were challenged to develop a business plan for Prairie Harvest, a local foods market in Newton, Kan. Each team was given several weeks before the convention to research Prairie Harvest and prepare a solution to one of the challenges faced by the business.
"We went to Maple City Market here in Goshen, which has a very similar business plan and market," Lopez said. "To have advice from a real business experience gave us credibility and helped us see the solutions with real scenarios and achievable goals. Much of the 'real business world' is about working in teams that can perform."
During the case presentation, the teams offered a business plan to the judging panel, made up of MEDA staff and the business owners, providing fresh insight to Prairie Harvest owners Becky Nickel and Carrie Van Sickle.
"The way the GC team incorporated our overall store mission – local, healthful foods in a community-minded business, with the novelty of peppernuts – was impressive," Nickel said. "The suggestions they made to our business plan were indeed some that we have been considering."
The first round of judging determined the two finalists. In the second round of judging, Goshen beat out Tabor College for the top spot. The other participating schools included Bluffton University, Canadian Mennonite University, Conrad Grebel University and Eastern Mennonite University.
"This competition is really a testament to the ability of our students," said Michelle Horning, professor of accounting. "The GC team had exactly the right approach, which was to get out of the classroom and learn from a real business."