History professor's new book documents Amish life, helps dispel myths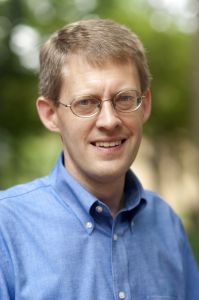 America's enchantment with the Amish – in romance novels and on reality television – has left many wondering what Amish life is really like. A new book, titled "The Amish," which is co-written by Goshen College Professor of History Steve M. Nolt, looks to dispel myths and document Amish life across North America.
Nolt, along with co-authors Donald B. Kraybill and Karen M. Johnson-Weiner, offers a comprehensive study of the growing religious group in "The Amish" (The Johns Hopkins University Press, 2013), which is a companion book to the American Experience documentary (with the same name) that premiered on PBS in February 2012.
"Mainstream Americans are fascinated by the Amish, but despite the rise of Amish-themed tourism, television shows and romance novels, there is surprisingly little authoritative information out there," Nolt said. "Many Americans would probably be surprised by their friendliness and humor when you learn to know the Amish, as well as how generally satisfied they are with life even without the latest household conveniences and online technology. They're not dour folks left over from the 19th century."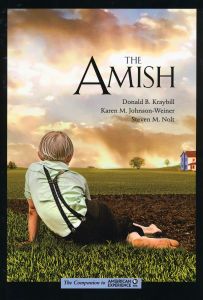 The book takes a look at Amish history, beliefs and values, family life and gender roles, community systems, relations with local government, education and schooling, work and economics, and tourism, among other topics.
"Although there are books about the Amish in specific locations or particular practices, there was no book that provided a comprehensive picture of the enormous diversity of Amish life," Nolt said. "There are more than 40 types of Amish in 460 communities across North America. We've spent more than a quarter century getting to know these people, and wanted to share the remarkable diversity and resilience we've found."The book takes a look at Amish history, beliefs and values, family life and gender roles, community systems, relations with local government, education and schooling, work and economics, and tourism, among other topics.
Known for their simple clothing, plain lifestyle and horse-and-buggy mode of transportation, the Amish often are misunderstood and appear to be at odds with the modern world. According to Nolt, Amish have learned to deal creatively with the world around them. This includes many families that have shifted from farming to home-based small business or factory work. They have also learned to adapt to technology, selectively using it or dismissing it based on whether they believe it threatens the welfare of their community.
"The regulations on technology vary widely among the various Amish groups. Many Amish shops adapt mainstream technology to make it fit within the rules of their church," Nolt said. "For example, finding other power sources if their church forbids tapping into public utility electricity."
Despite the fact that they forego many modern conveniences and do not evangelize, the Amish population continues to grow. In North America, the number of Amish has grown from around 6,000 people in the early 1900s to nearly 300,000 today. "The Amish population doubles about every 20 years, both because Amish families are large and because most Amish children join the church as adults," Nolt said. "This population growth has meant that Amish families are more often moving and starting new settlements elsewhere. Amish society is less compact and more dispersed."
Nolt, along with Kraybill, who is a cultural sociologist and professor at Elizabethtown College, and Johnson-Weiner, a professor of linguistic anthropology at SUNY-Potsdam, has spent decades researching and experiencing Amish culture. "We each bring different perspectives, and weaving those together in a comprehensive book on Amish was really simulating," Nolt said.
In a review, Publisher's Weekly wrote "Kraybill, Johnson-Weiner and Nolt present a comprehensive collection of history and modern research on the Amish. The authors successfully address the seeming exoticism of the Amish without sensationalism. The scholarship is enlivened with quotes and personal anecdotes, and the final section on the future of the Amish raises fascinating questions, even for casual readers."
Nolt is the author or coauthor of a dozen books, including Amish Grace: How Forgiveness Transcended Tragedy (2007), Mennonites, Amish and the American Civil War (2007) and A History of the Amish (2003). He graduated from Goshen College in 1990, earned a graduate degree in theology from Anabaptist Mennonite Biblical Seminary, and received his doctorate in history from the University of Notre Dame. He lives in Goshen, Ind., with his wife, Rachel, and two daughters, and is a member of Eighth Street Mennonite Church in Goshen.
The book is available at the Goshen College bookstore or online.
CONTACT
Goshen College professor of history Steve M. Nolt
Email: stevemn@goshen.edu
Phone: 574-535-7460
BOOK INFORMATION
"The Amish"
by Steven M. Nolt, Donald B. Kraybill and Karen M. Johnson-Weiner
The Johns Hopkins University Press
ISBN: 978-1-4214-0914-6 Hardcover, 978-1-4214-0915-3 eBook
$29.95 hardcover
520 pages
PUB DATE: April 6, 2013