Building an intercultural family, one student at a time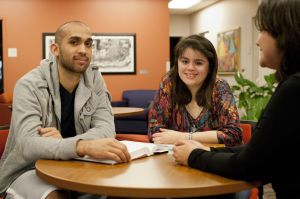 Goshen College students Tavo Parral and Yvette Cardenas recently donned caps and gowns to receive their diplomas at graduation in front of their families—the blood relatives who traveled from a distance and the families they formed on campus.
The two seniors, who were both raised by single moms, were able to attend Goshen College—along with nine other graduates this year—because they received scholarships through the college's Center for Intercultural and International Education (CIIE), which offers up to full tuition for first-generation Latino students.
Though they both experienced initial challenges as they adapted to being away from home at a small college in a small town, being ethnic minorities on a predominantly white campus and not being Mennonite, the support they found through CIIE made all the difference.
"They gave me opportunities and helped me feel welcomed here," said Parral. "They set me up to succeed with financial, emotional and academic support. And they told me that if I ever needed anything, 'we're here for you.'"
Being a first-generation minority college student, that support was "definitely needed," he said. "These people have become another family for me and it feels like home when I am with them."
CIIE
CIIE was developed (it was formerly called the Center for Intercultural Teaching and Learning) when Goshen College received a $12.5 million grant in 2006 from Lilly Endowment Inc. to recruit and retain first-generation Latino students, to create an intercultural learning community and to research the impact of changing demographics in the region and the campus.
One measurement of what has changed at the college since is to consider that in 2007, 6.2 percent of undergraduate students were Latino, and in 2012 that almost doubled to 12.3 percent.
As the grant-funding period comes to an end for CIIE, the college's goal is to become a Hispanic Serving Institution, which requires that at least 25 percent of students be Latino.
"CIIE serves as a sign post of our abiding commitment to make Goshen College, inside and out, top to bottom, through and through, a World House of Learning," said President Jim Brenneman. "Everything Goshen College has been in the past has brought us to this moment."
Getting to Goshen
For Parral, an elementary education major, the home he grew up in is 1,300 miles away in San Antonio, Texas. College wasn't even on his radar until high school, though he had always been a good student; it just wasn't the priority in his family.
Culturally, Goshen was also worlds away from the big city, Catholic, Spanglish-speaking Mexican-American community he grew up in. He adapted to living in a small town, to the food and now "most of my friends are white," he said. The Midwestern winters, on the other hand, are harder to get used to.
For Cardenas, a nursing major, home was a little closer—just outside of Chicago—and education was a high priority for her family. Her mom, who hadn't graduated from high school and struggled to get ahead, always said "not going to college wasn't an option."
When the time came, Cardenas was planning to go to a community college near because of the cost and to be close to family. But at a college fair, she was instead drawn to the purple table and "fell in love with Goshen College."
"Being the first in my family to attend college was something honorable, but also a responsibility, especially when you have two younger sisters who look up to you," she said.
Understanding selves and developing as leaders
As participants in CIIE, Parral and Cardenas had the opportunity to develop as leaders and explore their ethnic identity.
"They really make you examine yourself, what you believe, your identity and how you can then use that to help others. Growing up, we never sat down and discussed being Latinos," Cardenas said. "We just were."
Not only have these students been changed by Goshen College, but they have changed the college as well. CIIE encourages participants to serve the campus and the broader community while developing their leadership skills.
Parral was the men's basketball team captain and a resident assistant. Cardenas helped plan events for local Latino high school students and facilitated a mentoring group for other college students.
"I now see myself as a leader and a community organizer," she said. "I gained self-confidence that I can do it because I know my own talents better."
Faith connections
Most of the students who are part of the CIIE program are Catholic, like Parral, or Evangelical, like Cardenas, but not Mennonite like the majority of GC students. Though neither Parral nor Cardenas have become Mennonite, they both spoke of coming to respect and appreciate the faith during their four years. But more importantly, their own faiths have been impacted positively in this context.
"Experiencing other faith traditions really opened me up spiritually and deepened my Catholic faith," said Parral, who participated in Catholic worship on and off campus. "It helped me to understand myself better and appreciate my Catholic faith."
Beyond Goshen
The CIIE program culminates with helping students integrate their ethnic identity and leadership development for life beyond. Both Parral and Cardenas are clear that they want their life work to be focused on helping others. For Parral, that means teaching and mentoring kids. For Cardenas, being a nurse is where she finds fulfillment, especially working with non-English speaking patients.
"After taking care of a Spanish-speaking patient who couldn't understand a word from his health care professionals, it became evident that I was able to give a bit more by helping bridge that gap between two cultures—two cultures that I was born into," she said. "I have learned that being bicultural and bilingual is a blessing."
With graduation over, Cardenas plans to move back to Chicago, pass the nursing board exam, get a good job and help her mom financially. In five years, she hopes to put her nursing skills to use as a missionary.
Parral will return home to the Mexican-American community that he grew up in as he prepares to seek his first teaching job. But his second home has left a mark on him.
"Being here forever changed me," he said. "I know myself now."
– By Jodi H. Beyeler