Merry Lea to host annual NatureFest May 10-11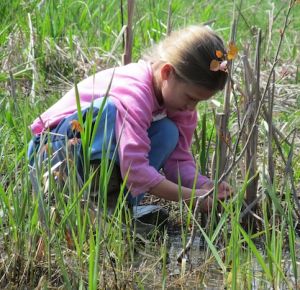 Directions, schedules, activity descriptions and online registration are all available at http://merrylea.goshen.edu/. Register by May 9. Weekend registration includes Saturday breakfast and lunch. Saturday only registration includes lunch. Adults pay $5 for one activity, $10 for Saturday and $15 for the weekend. Kids through college students pay $5 anytime.
---
WOLF LAKE, Ind. – Merry Lea Environmental Learning Center of Goshen College will kick off its annual NatureFest on Friday, May 10 with a Haymow Concert in the Farmstead Barn at 8:30 p.m. The folk group The Nearby Elsewhere will play.
The Nearby Elsewhere is composed of Craig Mast, Kate Truscello and David Kempf, all from the Goshen/Elkhart area. The trio uses the fiddle, guitar, mandolin and banjo to preserve traditional tunes, give new folk-life to cover songs, and play some original material of their own. Merry Lea's Farmstead Barn has beams, rafters and a few friendly bats to add to the atmosphere.
NatureFest is a family-friendly bash that showcases a wide variety of ways to get closer to the outdoors, from hiking to container gardening, from catching insects to tasting wild edibles. All festivities take place at Merry Lea's Farmstead Site. This year's theme, "Nature Nurtures Us All," includes booths and activities that demonstrate our dependence on the Earth for our food, clothing and shelter.
Woodworker Dave Miller, of Goshen, Ind., a former program director at Merry Lea, is back to demonstrate his favorite hobby. Miller knows what kinds of wood will work best for various human needs and also where those trees grow and what they are like when they are living.
Julie Davidson, of Columbia City, Ind., and her daughter, Elena, own sheep and can transform wool into handcrafted garments. Visitors can watch them spinning and learn about natural dyes.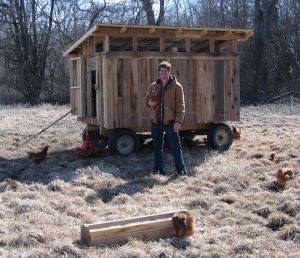 At Merry Lea's agroecology booth, the program's new eggmobile will demonstrate the chicken lifestyle at its best. This coop on wheels with portable fencing allows the chickens to graze outdoors on fresh pastures.
What do maple syrup, bison, lavender and apples have in common? They're all grown on farms in Noble County. Farm to Fork, a program of the Noble County Convention and Visitors' Bureau that aims to educate the public about its local food producers will also be represented.
At 8 a.m. on Saturday morning, athletes can run the Turtle Trot, a 5-K that follows grassy trails past wetlands, woodlands and prairies. Small prizes are awarded for the fastest male, female and child times and the most unusual nature sighting spotted while running.
Canoeing is one of NatureFest's most popular activities, offered every year. The nine-acre Kesling Wetland is large enough to provide interesting nature sightings yet small enough to allow families to return to shore promptly when young children get restless. Canoes are provided.
Camping without the need to pack and cook food is a draw for some families. Weekend registration fees include Friday night s'mores and a hot breakfast and lunch. A wild edibles snacking table will supplement the more traditional fare.
For a foretaste of Fancheon Resler's Container Gardening Workshop, drive by 3100 N. 350 W. Albion, where she practices her art. Participants are invited to bring a container to plant.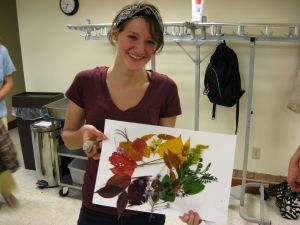 A new feature this year at NatureFest is a young adult track. It includes an off-trail hike led by Bill Minter, New Paris, Ind., who teaches land management courses at Merry Lea. Hikers ages 16 to 22 – or those spry enough to keep up with them – will see a perched bog and a ghost forest of tamarack trees. Following the young adult track is a good way to explore interests in environmental science and meet Goshen College professors.
Merry Lea was created with the assistance of the Nature Conservancy and the generosity of Lee A. and Mary Jane Rieth. The 1,189-acre nature preserve is located in central Noble County, midway between Fort Wayne and Goshen, south of Wolf Lake.