The StepCrew to bring dance to Sauder Concert Hall on March 23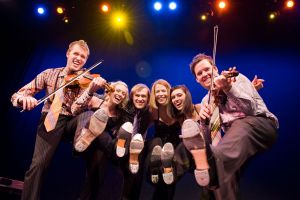 Performing Arts Series concert: The StepCrew
Date and time: Saturday, March 23 at 7:30 p.m.
Location: Goshen College Music Center's Sauder Concert Hall
Cost: $20, $30, $35
For more information: Call (574) 535-7566, e-mail welcomecenter@goshen.edu or buy tickets at www.goshen.edu/tickets
Website: www.stepcrew.com
The StepCrew, a tap and stepdance team, will perform at Goshen College in a Performing Arts Series concert on Saturday, March 23 at 7:30 p.m. in the Music Center's Sauder Concert Hall.
The crew creates a lively and cutting-edge show by combining Irish stepdancing, Ottawa Valley stepdancing and modern tap. The cast features six dancers trained in modern and traditional dance. A talented five-piece band supports the dancers with Celtic vocals and fiddle.
With The StepCrew's dancers and fiddlers hailing from bands like The Chieftains, Bowfire, Cherish The Ladies and Seven Nations, the production promises a night of visual and musical energy.
Tickets cost $20, $30, $35 and are available through the Goshen College Welcome Center by calling (574) 535-7566, e-mailing welcomecenter@goshen.edu or visiting www.goshen.edu/tickets.
Seating for those with disabilities is available. Tickets are nonrefundable.
The Goshen College Performing Arts Series debuted on Sept. 21, 1997. Since then, the college has hosted more than 100 concerts by some of the world's greatest performers as part of the program.
-By Becca Kraybill