Goshen College Chamber Choir to sing for Afternoon Sabbatical on Feb. 12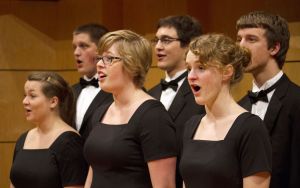 Afternoon Sabbatical: "A Limitless Expanse," by the Goshen College Chamber Choir, directed by Professor of Music Dr. Debra Brubaker
Date and time: Tuesday, Feb. 12 at 1 p.m.
Location: Goshen College Music Center's Sauder Concert Hall
Cost: Free and open to the public
Goshen College's Chamber Choir, directed by Professor of Music Dr. Debra Brubaker, will present an Afternoon Sabbatical concert on Tuesday, Feb. 12 at 1 p.m. in Sauder Concert Hall. The program is free and open to the public.
The 19-member student ensemble will sing a collection of sacred and secular music and poetry in English, Spanish, Latin and Yoruba. The songs will be sung primarily a capella, with some instrumental accompaniment.
Brubaker titles the concert "A Limitless Expanse" in reference to the "ability of humans to accept the wideness of God." Though the texts acknowledge the richness of God's gifts, Brubaker said they also present "the darker side of human."
The concert will provide a preview of the choir's upcoming concerts on the road during spring break. The Chamber Choir will travel to Baden, Waterloo, and London, Ontario on Feb. 23 and 24 to sing for churches. They will present a home concert on Sunday, March 3 at 7:30 p.m. in Sauder Concert Hall. They will also sing in the Earthtones concert on Saturday, April 13 at 7:30 p.m. in Sauder Concert Hall.
A reception in the Music Center lobby will follow the program. Afternoon Sabbatical programs are usually on the second Tuesday of the month at 1 p.m. in Sauder Concert Hall. For more information on the Afternoon Sabbatical series call the Goshen College Welcome Center at (574) 535-7566.
 -By Becca Kraybill
Future programs in the 2012-13 Afternoon Sabbatical series include:
Tuesday, March 12, 2013 at 1 p.m. in Sauder Concert Hall, Music Center
"The Amish Way: Patient Faith in a Perilous World" by Professor of History Steve Nolt
Tuesday, April 9, 2013 at noon in College Mennonite Church Fellowship Hall
International Luncheon: Turkey with Merle and Mary Hochstedler
Cost: $20. Call 574-535-7565 before March 30 to register ($5 late fee).
Tuesday, May 9, 2013
Spring Bus Trip to Indianapolis: Show House and State Museum
Cost $65. Register early as there is limited space for this trip. Call 574-535-7565 to register.