The English Concert baroque orchestra to perform Feb. 16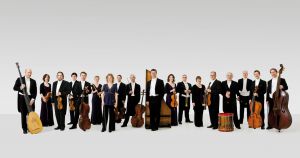 Performing Arts Series Concert: The English Concert
Date and time: Saturday, Feb. 16 at 7:30 p.m.
Location: Goshen College Music Center's Sauder Concert Hall
Cost: $45, $40, $25
For more information: Call (574) 535-7566, e-mail welcomecenter@goshen.edu or buy tickets here

Website: http://www.englishconcert.co.uk
The English Concert, a baroque orchestra from London, will perform at Goshen College in a Performing Arts Series concert on Saturday, Feb. 16 at 7:30 p.m. in the Music Center's Sauder Concert Hall.
The orchestra, which was formed in 1973, is known for playing classical music on period instruments. The group has performed chamber music across the United States, Europe and the Middle East. They have recorded over 100 widely praised performances under directors Trevor Pinnock and Harry Bicket.
Tickets are available through the Goshen College Welcome Center by calling (574) 535-7566, e-mailing welcomecenter@goshen.edu or visiting www.goshen.edu/tickets.
Seating for those with disabilities is available and the minimum age of attendees is 5 years old. Tickets are nonrefundable.
The Goshen College Performing Arts Series debuted on Sept. 21, 1997. Since then, the college has hosted more than 100 concerts by some of the world's greatest performers as part of the program.