Merry Lea offers ground water workshop Nov. 3
Hoosiers are blessed with a silent, unsung resource: abundant groundwater. This legacy is a 10,000 year-old gift from the glaciers that once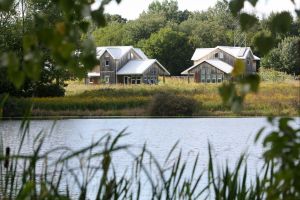 covered Northern Indiana. But how vulnerable is our groundwater to contamination? Are we using our groundwater wisely or abusing it?
A workshop, "Exploring Northern Indiana's Ground Water Resources," will be held on Saturday, Nov. 3 from 9 a.m. to noon at Merry Lea Environmental Learning Center of Goshen College in Wolf Lake, Ind., at its Farmstead Site. It will cover these issues and offer community members new insights into the tap water they depend on daily.
Dr. Larry Yoder and Jeff Yoder will lead the workshop. The former is a director emeritus of Merry Lea and longtime glacial geology buff who likes to call the Great Lakes region "the Saudi Arabia of the world's water supply." The latter is a water resources engineer who has spent 15 years working on rural water development in Southeast Asia. The two Yoders will be able to provide some lively contrasts illustrating the impact differing geologies have on water supply.
Practical questions the workshops will answer include, "How far down do those plastic water pipes sticking out of the ground in the countryside go?" and "Why does water sometimes have a sulphur taste?"
The workshop will be taught at the level of adult general interest. Specialized background is not expected. Brunch is included in the cost of $15. The student rate is $10. To register, call (260) 799-5869 or email jenniferhs@goshen.edu.