Celebrate food and family during Nov. 13 Afternoon Sabbatical luncheon
Afternoon Sabbatical: Celebrating Food and Family Luncheon, with Esther Rose Graber and daughters
Date and time: Tuesday, Nov. 13 at 12 p.m.
Location: College Mennonite Church Fellowship Hall
Cost: $20; call (574) 535-7565 to register
NOTE: Registration deadline is Nov. 3
---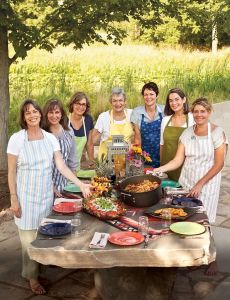 Celebrate food and family with the authors of the recently released cookbook The Daily Feast (Good Books, 2012) on Tuesday, Nov. 13 at noon during Goshen College's Afternoon Sabbatical in the College Mennonite Church Fellowship Hall. Registration costs $20 and the deadline is Nov. 3. Call (574) 535-7565 for more information and to register.
Artist and author Esther Rose Graber '52 will present with four of her daughters – Jane Graber Davis '76, Ellen Graber Kraybill '77, Sibyl Graber Gerig '80, Ann Graber Miller '80 – all Goshen College graduates and co-authors of the cookbook. Accompanying the words and visuals will be a delectable Caribbean meal taken from the pages of their culinary work.
Esther Rose Graber explained in the book that all seven Graber women love to cook and compiled several photocopied collections of recipes over the years. Based on positive responses from guests and friends and many requests for recipes, the women decided to compile a cookbook with their favorite dishes. Each of the seven authors provided three complete menus — one for a soup meal, the second for a family weeknight supper and the third for a more elaborate guest dinner as well as their favorite special-occasion meals.
In her introduction to the cookbook, Esther Rose wrote that the Graber family's love of diverse meals was decades in the making. "Our food memories and experiences as a family go back more than 80 years to the days of pap, cambric tea and impossibly hot curries," she wrote.  "Our heritage is rooted in Amish and Mennonite cooking that unites families and friends around the shared pleasures of the table, but our tastes have expanded through a love of travel. That began with Grandpa Joe and Grandma Minnie Graber, who spent many years in India and brought us their love for Indian cuisine, which Grandma prepared with great skill."
Esther Rose and her husband, Ronald Graber '52, lived and worked in Puerto Rico for 35 years, so the six Graber children grew up with a love for Caribbean cuisine. The children's palettes developed further by spending time in Italy, Spain, England, Germany, Cambodia, China, the Dominican Republic, Bulgaria, Turkey, Greece, Indonesia, New Zealand and Mexico.
The book includes many mouth-watering recipes from around the world, practical advice on the best dishes to round out a meal and Graber family stories. "Each meal takes into account the ease of preparation, balance of textures and flavors and eye appeal," Esther Rose wrote. "Partly because we're a family of artists — watercolorists, book illustrators, potters, designers, musicians — we know these meals will look as beautiful as they taste."
The Daily Feast cookbook costs $29.95 and will be available at the luncheon. It is also available at the Goshen College Bookstore and many retail booksellers. Learn more at: www.goodbooks.com/thedailyfeast.
Afternoon Sabbatical programs are usually on the second Tuesday of the month at 1 p.m. in Sauder Concert Hall or the College Church Fellowship Hall and are free and open to the public. For more information on the Afternoon Sabbatical series call the Goshen College Welcome Center at (574) 535-7566.
Future programs in the Afternoon Sabbatical series include:
Saturday, Nov. 17
Bus Trip to Chicago (sold out!) – Les MisérablesBased on Victor Hugo's classic novel, Les Misérables is an epic and uplifting story about the survival of the human spirit. Cameron Mackintosh presents a 25th anniversary production with new staging and dazzlingly reimagined scenery inspired by Hugo's paintings. This new production has been acclaimed by critics and fans and is breaking box office records wherever it goes. This trip is sold out.
Tuesday, Dec. 11 at 1 p.m. in Sauder Concert Hall, Music Center
Pre-Christmas Celebration with Family Duo David Machavariani, cello adjunct faculty at GC, and Ketevan Badridze, piano faculty at Indiana University South Bend
Join us for an early Christmas celebration with family duo originally from the Republic of Georgia. Our own Goshen College cello teacher and his wife Ketevan will share great music of German and Russian major composers, including sonatas by Richard Strauss and Dmitry Shostakovich.