Chamber Choir to present fall 'mystical' concerts on Oct. 27 & 28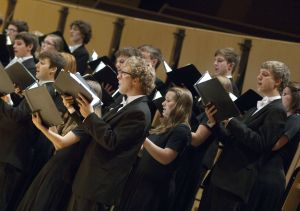 Concert: Goshen College Chamber Choir – "A Mystical Festival: Songs of Earth and Spirit"
Dates and times: Saturday, Oct. 27 at 7:30 p.m. & Sunday, Oct. 28 at 4 p.m.
Location: Goshen College Music Center's Rieth Recital Hall
Tickets (general admission): $7 adults, $5 seniors/students. Available at the Welcome Center (574-535-7556) or online at www.goshen.edu/tickets
---
The Goshen College Chamber Choir, directed by Dr. Debra Brubaker, will present two concerts of choral works with a "mystical" theme on Saturday, Oct. 27 at 7:30 p.m., and Sunday, Oct. 28 at 4 p.m. Both concerts will be held in the Goshen College Music Center's Rieth Recital Hall.
Titled "A Mystical Festival: Songs of Earth and Spirit," the program will include works by British composers Benjamin Britten, C.V. Stanford, Ralph Vaughan Williams, Robert Whyte and Andrew Lloyd Webber. Also on the program are works by Bulgarian composer Alexander Tekeliev, and American composers Greg Jasperse, Leonard Bernstein and Carol Barnett. The Chamber Choir will perform a cappella, as well as with piano and organ, accompanied by Christine Larson Seitz.
The Goshen College Chamber Choir is an auditioned group of 24-32 upper-class Goshen College students, performing secular and sacred music from the Medieval through Modern periods. In addition to performing with area and regional orchestras, the Chamber Choir performs numerous solo concerts both on and off campus during the school year.
Tickets for each concert are $7 adults, $5 seniors and students. Goshen College faculty, staff, and students are free with valid ID. Due to the limited seating in Rieth Recital Hall, patrons are strongly encouraged to purchase their tickets in advance. Tickets are available by calling the Goshen College Welcome Center at (574) 535-7566, or online at https://www.goshen.edu/tickets/.
Brubaker is professor of music at Goshen College, where she is involved in the choral, voice and opera theater programs, teaches related courses, and previously served as department co-chair. Since coming to Goshen in 1999, Brubaker has directed the Goshen College Chorale and Chamber Choir, and in 2004 created the Women's World Music Choir, which is an invited performer at the 2013 Indiana Music Educators Association conference in Ft. Wayne, Ind., and has also performed at the 2008 Central Division conference of the American Choral Directors Association in Grand Rapids, Mich. In addition to touring many parts of the United States and Canada, Brubaker's choirs are in demand regionally, having performed with the Toledo Symphony, Ft. Wayne Philharmonic Orchestra and South Bend Symphony. She is an accomplished hymn leader, specializing in international music. Brubaker's research focus with hymnologist and musicologist Dr. Mary Oyer involves organizing and cataloguing original recordings of indigenous African musicians, which emphasizes one of Brubaker's passions – exploring how the use of hymn and folk singing can become a catalyst for connections between people of differing cultures, faiths, ages and circumstances.