New York's hottest big band, Birdland Big Band, to take the stage at Goshen College
Performing Arts Series: Birdland Big Band
Date and time: Saturday, Oct. 13 at 7:30 p.m.
Location: Goshen College Music Center's Sauder Concert Hall
Cost: 15 percent special discount off regular prices for all in-person or phone sales with mention of promo code "PAS." Non-discounted tickets: $35, $30, $20
For more information: Call (574) 535-7566, e-mail welcomecenter@goshen.edu or visit www.goshen.edu/tickets
Website: www.tommyigoe.com/birdland.html
---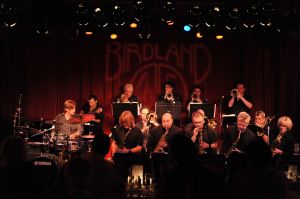 The hottest big band in New York, Birdland Big Band, is coming to Goshen College for a Performing Arts Series concert on Saturday, Oct. 13 at 7:30 p.m. in the Music Center's Sauder Concert Hall. Come hear the finest jazz, Latin and Brazilian music and experience why this band is fast becoming the must-see jazz event as they go beyond the traditional and set new standards for 21st century jazz.
"There isn't another band like this anywhere…it's a music experience you simply must witness!" said Time Out New York of Birdland Big Band.
A 15 percent special discount off the regular price is being offered for tickets bought in-person or on the phone. Mention the promo code "PAS" and tickets will be specially priced at $29.75, $25.50 or $17. Non-discount tickets cost $35, $30 or $20. Tickets are available through the Goshen College Welcome Center by calling (574) 535-7566 or e-mailing welcomecenter@goshen.edu. Non-discounted tickets are also available online at www.goshen.edu/tickets.
Every week, the band roars into action as the house band for the famed New York City jazz club, Birdland. The band is an American 15-piece (five saxes, three trombones, four trumpets, piano, bass, drums) jazz orchestra, led by Tommy Igoe, one of the world's greatest drummers.
Seating for those with disabilities is available and the minimum age of attendees is 5 years old. Tickets are nonrefundable.
The Goshen College Performing Arts Series debuted on Sept. 21, 1997. Since then, the college has hosted more than 100 concerts by some of the world's greatest performers as part of the program.