Goshen College to launch new master's degree program in intercultural leadership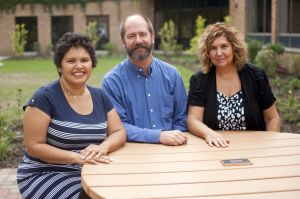 GOSHEN, Ind. – Building on the success of its master's degree programs in environmental education and nursing, Goshen College will offer a new Master of Arts in Intercultural Leadership, starting in January 2013. The Higher Learning Commission of the North Central Association of Colleges and Schools approved the program on Aug. 22.
"This program is a natural extension of GC's longstanding expertise in the area of intercultural and international education," said Academic Dean and Vice President for Academic Affairs Anita Stalter. "The curriculum is designed to meet the demand for leaders with the knowledge, skills and capacity to lead increasingly diverse organizations."
The program is designed for mid-career working professionals, including business managers, educators, health-care professionals and non-profit leaders, who want to enhance their preparation for engaging the multiple cultural contexts in which modern organizations operate. The 18-month program consists of three 9-day residential sessions on campus (in January, July and January) as well as online coursework. Tuition for the program will be $6,300 per semester (3 semesters total), plus textbook fees. Numerous current Goshen College faculty members will teach in the program, which will be led by Associate Dean of Intercultural Development and Educational Partnerships Dr. Rebecca Hernandez and Associate Dean Dr. Ross Peterson-Veatch.
"Students will gain practical skills as well as expertise in organizational theory, with a unique emphasis on understanding how culture informs effective approaches to leadership," said Hernandez. "In addition, students will design and implement a major action research project which links learnings from the program to their professional contexts. Throughout the program, students will demonstrate and reflect on their growth using an electronic portfolio."
This master's degree is one of several initiatives that were part of a $12.5 million grant from Lilly Endowment Inc., which Goshen College used to establish the Center for Intercultural Teaching and Learning (CITL). The work of the center, launched in 2006, has focused on three areas: researching the resources and challenges that changing demographics bring to a rural Midwest community and to higher education, creating an intercultural learning environment to benefit all students and strengthening current efforts in recruiting and retaining regional Latino and other minority students. More specifically, it has established scholarships and recruited minority undergraduate cohorts, provided cultural programming on campus, connected with the local Latino community, improved student support services on campus, offered opportunities for faculty to learn Spanish, developed multiple research initiatives, created a "bridge" program to assist minority students in preparation for college, presented research findings at national conferences, partnered with other educational institutions and helped assess and renew the college's general education curriculum.
"With the launch of this program, we seek to address a major challenge of the 21st century, which is the need to promote systemic global awareness in all our institutions, organizations and communities," said President James E. Brenneman. "This new master's degree is closely tied to the college's vision and our core values of Christ-centeredness, passionate learning, servant leadership, compassionate peacemaking and global citizenship will provide the framework through which the program will operate."
For more information about Goshen College's Master of Arts in Intercultural Leadership, contact Rebecca Hernandez at (574) 535-7800 or rhernandez@goshen.edu.
For more information about The Higher Learning Commission of the North Central Association of Colleges and Schools go to www.ncahigherlearningcommission.org or call (312) 263-0456.