History professors' essays featured in book on evangelicalism and Anabaptism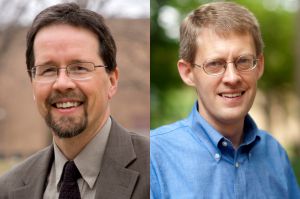 GOSHEN, Ind. — Two Goshen College faculty members have contributed chapters to a recent book that attempts to address the relationship between Anabaptists and evangelicals, and to encourage meaningful dialogue between the two groups. Goshen College Professors of History Steven M. Nolt and John D. Roth contributed essays to the book, The Activist Impulse: Essays on the Intersection of Evangelicalism and Anabaptism (Pickwick, April 2012), edited by Jared S. Burkholder and David C. Cramer.
The Activist Impulse is among the first substantial explorations of the connections and differences between Anabaptists and evangelicals. With contributions from various experts as well as new voices, the book addresses both the historical and theological intersection of these two rich traditions. Each of the essays provides fresh insight on at least one characteristic that both evangelicals and Anabaptists share — a desire to engage society through the pursuit of an active Christian witness.
"While both traditions share this impulse for active witness," Burkholder said, "there are significant tensions that exist both within these movements as well as in their relationship with each other." The main goal of the book according to Burkholder "is to revisit the conversation and renew interest in this topic within academic and historical circles."
Nolt and Roth are authors of two of the 14 chapters. "This book pulls together essays that explore both sides of the evangelical-Anabaptist relationship," said Nolt. While Nolt focuses on evangelicals and Anabaptists in North America in his essay and Roth addresses the European roots of each group, both chapters reflect on the conversation and interaction between evangelicals and Anabaptists regarding their activist impulses and understandings of one another.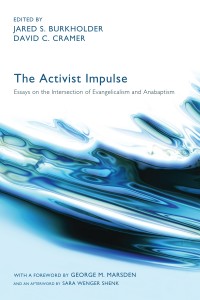 "This book is important because while North American Mennonites are almost always in conversation with evangelicals, some are comfortable with it and some are not," said Nolt. "Some Mennonites are trying to define themselves as not being evangelical. So the conversation about relationship does exist, but it doesn't always seem to be thoughtful or fruitful. I think there are certainly thoughtful people in both groups who would benefit from the exploration in this book, and it could encourage even broader conversation."
Roth agrees that The Activist Impulse "points towards a continuation of the sort of 'ecumenical' conversations that are moving forward with Anabaptists/Mennonites." Nolt adds that the essays might provide some understanding for Anabaptists with a negative view of evangelicalism, and that the book could encourage each group to participate in discussion that might ease tension and promote understanding and healing in what has historically been a contentious relationship.
The Activist Impulse: Essays on the Intersection of Evangelicalism and Anabaptism is available on amazon.com or through Wipf and Stock Publishers directly.
— By Anna Ruth
Editors: For more information about this release, to arrange an interview or request a photo, contact Goshen College Assistant Director of Public Relations Jodi H. Beyeler at (574) 535-7572 or jodihb@goshen.edu.
###
Goshen College, established in 1894, is a residential Christian liberal arts college rooted in the Anabaptist-Mennonite tradition. The college's Christ-centered core values — passionate learning, global citizenship, compassionate peacemaking and servant-leadership — prepare students as leaders for the church and world. Recognized for its unique Study-Service Term program, Goshen has earned citations of excellence in Barron's Best Buys in Education, "Colleges of Distinction," "Making a Difference College Guide" and U.S. News & World Report's "America's Best Colleges" edition, which named Goshen a "least debt college." Visit www.goshen.edu.