Online summer courses now offered at Goshen College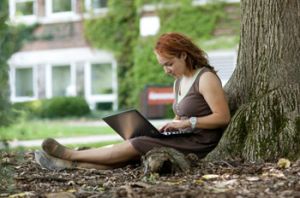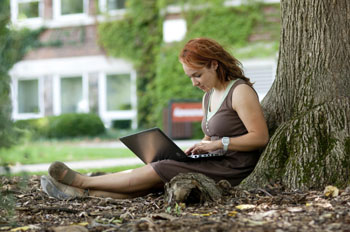 GOSHEN, Ind. – When May term draws to a close this year at Goshen College, students will have the option of keeping their books open when the first summer online courses are offered.
Registrar Stan Miller said, "It is very common for Goshen College students to take summer courses in their home communities to alleviate scheduling pressures or to take advantage of lower costs. These new courses afford our students the convenience of completing courses with professors they know and respect, without having to apply to a new school and have transcripts sent when the course is completed."
Miller added, "The greatly reduced tuition is a summer bargain." Taking a summer course online at Goshen College costs about half as much as it would cost to take a summer course on campus at the college, and about a third of the cost of during the traditional school year.
The summer semester will be divided into two seven-week terms, beginning May 21. Students will be able to choose from a pool of seven general education classes that will be taught by traditional Goshen College professors. Some courses will fill both terms, while others will fill one.
Randy Gunden, executive director of adult and online programs at Goshen College, helped coordinate the set-up of the online courses. "In the administration's most recent strategic plan, a decision was made to explore alternative delivery of classes," said Gunden. "In order to take advantage of revolutions in communication, the administration asked faculty if they would be committed to explore new options."
Many of the faculty were indeed ready. In most cases, the courses are the same as the ones offered during the year; the only difference will be the format of delivery.
"These classes will provide flexibility for students," said Gunden. "They will have to finish the course, but it is not restricted by class meeting times. The option fits students' summer schedules because it will focus on one class at a time."
Students will be able to work at their own pace during the seven or 14-week period, though a schedule will be suggested. Moodle, an e-learning program, will be the main platform for each class. Assignments will be listed there, much like a regular class, as well as work submission, discussion threads and student-teacher communication. Professors will also use email, video conferencing and even Skype to communicate with students.
"We want to better serve students," said Gunden. "It is not always easy to finish a degree in four years, and these general education-type courses will help students complete their degrees in ample time."
The online summer courses offered this year are:
Expository Writing, taught by Professor of English Ann Hostetler;
Intro to Philosophy, taught by Associate Professor of Education Kevin Gary;
Office Software Productivity, taught by Assistant Professor of Business Carlos Gutierrez;
Quantitative Reasoning, taught by Professor of Mathematics David Housman;
Human Behavior, taught by Professor of Social Work Jeanne Liechty;
Digital Design, taught by Assistant Professor of Communication Kyle Hufford;
and European History, taught by Professor of History John Roth.
All of the online summer courses are open to students from other colleges and universities for transfer back to their home schools. Contact the Goshen College Admission Office for more information, at admission@goshen.edu or at (574) 535-7535.
– by Kate Stoltzfus for the Goshen College Record
Editors: For more information about this release, to arrange an interview or request a photo, contact Goshen College Acting News Bureau Coordinator Alysha Bergey Landis at (574) 535-7762 or alyshabl@goshen.edu.
###
Goshen College, established in 1894, is a residential Christian liberal arts college rooted in the Anabaptist-Mennonite tradition. The college's Christ-centered core values – passionate learning, global citizenship, compassionate peacemaking and servant-leadership – prepare students as leaders for the church and world. Recognized for its unique Study-Service Term program, Goshen has earned citations of excellence in Barron's Best Buys in Education, "Colleges of Distinction," "Making a Difference College Guide" and U.S. News & World Report's "America's Best Colleges" edition, which named Goshen a "least debt college." Visit www.goshen.edu.