Extraordinary Care For The Common Good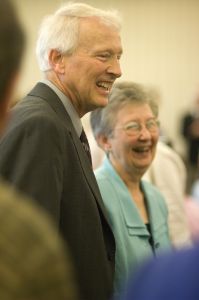 For 31 years, Provost and Executive Vice President John D. Yordy said he pursued the goals of providing "extraordinary care to the ordinary and routine work that we do, to the special challenges that are sometimes part institutional life and to the common good."
On April 21, Yordy '67 was honored for his decades of "Culture for Service" at a reception at College Mennonite Church. Yordy, who retired June 30, thanked current and former faculty and staff members, administrators, students and his wife, Winnie, for the support they provided him and the college. They, in turn, thanked him.
"John's vision and his leadership are as vital and relevant today as when he first became a student at Goshen College. John served Goshen College for 20 years as a chemistry professor and another 11 years as provost, overlapping two years as an interim president. In all this work, he provided keen oversight, leadership in good times and in times of transition and crisis," said President Jim Brenneman.
"Faith, service to the Mennonite Church, service to Goshen College and service to the world are hallmarks of John's career whether in Goshen, Haiti, Mexico, Honduras, the Dominican Republic or Kenya. Indeed, 'Culture for Service' and a life lived in companionship with Christ are apt descriptions of John Yordy. And it's still a wonderful blueprint for our mission at Goshen College."
Professor of Physics Carl Helrich praised Yordy for his accomplishments as a professor and an administrator, including his support for the renovation of the Science Building and his commitment to providing innovative research opportunities for students. Scott Barge '99 described Yordy as an excellent teacher and mentor with a great sense of humor and a tireless commitment to Goshen College.
–by Richard R. Aguirre
"I have enjoyed each of the stages of life at Goshen College, including teaching and my role in administration, both as provost and interim president. … I have had the privilege of working with wonderful colleagues committed to the mission of the college and our common work together. Our goal has been to give extraordinary care to the ordinary and routine work that we do, to the special challenges that are sometimes part of institutional life and to the common good. I wish current and retired colleagues and the college every success and God's blessing now and in the years ahead as all of us continue to work for the welfare of the college."
– John D. Yordy
"The college waded through some very difficult times and he was always one to be able to see the bigger picture and not let the challenges get the best of him … I think John should be remembered first and foremost for his commitment to the college and for his strength of character that manifested itself in so many ways through his effective leadership."
– Scott Barge '99, former student and assistant