Chasing Bugs Around the World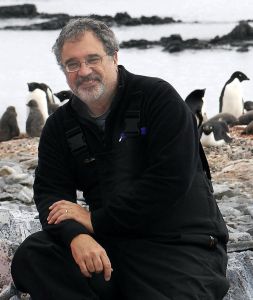 He got his start in his backyard as a boy, but Dr. David Denlinger, '67 now studies interesting bugs in interesting places as professor of entomology at Ohio State University.
Denlinger, who earned a doctorate degree from the University of Illinois in 1971, has been studying insects for more than 30 years and has traveled from Kenya to Panama and most recently to Antarctica. His research has focused on studying the genes that allow certain insects to lay dormant for up to nine months a year and the environmental elements that allow such insects to survive.
Denlinger says that he was like many young boys interested in bugs, but his passion didn't fade with age. "Some of us grow up and keep those interests."
In 2004, Denlinger was recognized for his work by the National Academy of Sciences and was elected into membership. The recognition is one of the most prestigious for a U.S. scientist.
As Denlinger plans trips to study these insects in their natural environments, he continues his research at Ohio State University. The advances in technology, and especially the advances in molecular biology have allowed entomologists to study the genes that certain bugs rely on to survive in harsh environments.
-Luke Nofsinger '09