Indiana native and artist Carol Ann Carter offers 2007 Eric Yake Kenagy Visiting Artist lecture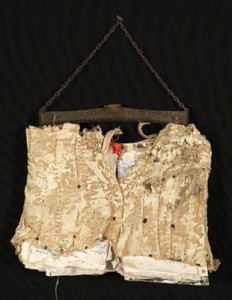 GOSHEN, Ind. – Professor of Art at the University of Kansas and Indiana native Carol Ann Carter is the Goshen College Art Department's 2007 Eric Yake Kenagy Visiting Artist and will offer a public lecture, "Mapping Transformation," on Sunday, Oct. 28 at 7 p.m. in the Music Center's Rieth Recital Hall, with a reception for her art exhibit following in the Hershberger Art Gallery at 8 p.m. An exhibit of her works, "Mapping the Interior Landscape," will be on display in the Hershberger Art Gallery from Oct. 25 to Nov. 29. She will then speak on Oct. 29 at 10 a.m. in the Church-Chapel on "Creative Transformations: Whose Work Is it?" The presentations and exhibit are free and open to the public.
Carter's creative work began in intaglio printmaking and advanced to mixed media painting and fiber construction in 1984 after she went to Nigeria to study Hausa men's traditional weaving and embroidery. "The energy and exaggeration of life there made it imperative to me, and subsequently to my work, to respond with like energy. Nigeria was the catalyst for the shift in my art's direction," Carter said in the book "Mixed Blessings." She is currently working in multimedia installation – performance, mixed media and digital imaging and video. Carter is also interested in collaboration across cultures and disciplines in the arts.
The artwork she will be displaying in the exhibit includes objects assembled between 1998 to 2007, and "represent a kind of mini retrospective," according to Carter. "I make physical and digital objects meant to literally and metaphorically reflect my view of the connections between things: ideas, memories, a figure to its environment, a needle to material, travel between cultures, places of the mind, touch relative to healing and repair; and ultimately the intersections of art and life. My work maps and tracks relationships. One thing leads to another and nothing is ever really finished."
Her artwork has been shown nationally and internationally in numerous individual and group exhibitions including, The Detroit Institute of Art, G.R. N'Namdi Gallery, in New York, Chicago and Detroit, The Cinque Gallery in New York, The Indianapolis Museum of Art and the Burgkloster Kulturforum in Luebeck, Germany. Public collections include the Snite Museum, Notre Dame, Ind., The Las Vegas Museum, The Santa Reparata Print Studio in Florence, Italy, and The Indianapolis Museum of Art.
Carter was born in Indianapolis, Ind. She received a bachelor of fine arts degree from the Herron School of Art of Indiana University, and a master of fine arts from the University of Notre Dame. Carter has held teaching positions at Saint Mary's College (Notre Dame, Ind.), Penn State University and the University of Michigan. She joined the faculty of The University of Kansas in 1996.
Carter has been the recipient of a National Endowment Individual Artists Award, a Lilly Foundation Open Faculty Fellowship for sabbatical research in Nigeria, Ford Foundation Postdoctoral for Minorities Fellowship and a J. W. Fulbright Fellowship for research in Stockholm, Sweden. In 1995, she was the Langston Hughes Visiting Professor at the University of Kansas, and in 2000, was awarded a Kansas Arts Commission Individual Artist Fellowship.
Carter is the 21st Eric Yake Kenagy Visiting Artist Program speaker. The program honors the late Eric Yake Kenagy, who was a gifted ceramics student at Goshen College from 1984 until his death in 1986. Through this program, his family and friends wish to celebrate the creativity Eric expressed in his too-short life, and to share with Goshen College and its friends events that will inspire others to develop their own creativity.