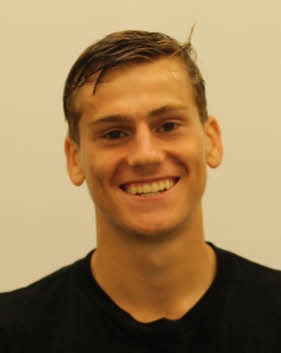 By Evan Beck, a senior molecular biology/biochemistry major from Goshen
Scripture: Luke 3:7-18 (NRSV)
Contrary to the warm fuzziness that accompanies the traditions of the Christmas season, John's opening salvo is as startling as the northern Indiana winter. You brood of vipers! he exclaims, evoking the motif of the serpent found throughout Scripture. To his ancient audience, the warning is crystal clear. In our churches today, most of us would be affronted if our pastor blustered You children of Satan! from the pulpit. This outburst, in conjunction with his question Who told you of the coming wrath?, serve to emphasize John's accusation of the crowds. Sensing a mounting defense, John quickly refutes the argument that Abrahamic ancestry serves as evidence for faith, informing the crowds that repentance, demonstrated through their actions, is the only true sign of faithfulness.
John's fire-and-brimstone imagery can appear bleak, especially in the "time of cheer" that marks our secular Advent season. Throughout the passage, his message is clearly apparent. A person must still bear "good fruit." If you're gonna talk the talk (i.e. profess your faith), ya gotta be able to walk the walk (i.e. do good works).
While difficult to hear, John's message is critical, especially for those of us from a religious background. My family has a yearly tradition of reenacting the Birth of Jesus before opening gifts. Despite the fun of making my brother Wes perform the role of the "wild ass" every year, it can be hard for me to find renewal in Luke 2 after having heard it countless times. This familiarity, however, is exactly the focus of John's message. All of us, whether familiar with the birth of Jesus or not, should approach the season of Advent with a sense of renewed, genuine expectation that is reflected in our faithful actions. May God provide us the courage to act.
Scripture: Luke 3:7-18 (NRSV)
John said to the crowds that came out to be baptized by him, "You brood of vipers! Who warned you to flee from the wrath to come? 8Bear fruits worthy of repentance. Do not begin to say to yourselves, 'We have Abraham as our ancestor'; for I tell you, God is able from these stones to raise up children to Abraham. 9Even now the ax is lying at the root of the trees; every tree therefore that does not bear good fruit is cut down and thrown into the fire." 10And the crowds asked him, "What then should we do?" 11In reply he said to them, "Whoever has two coats must share with anyone who has none; and whoever has food must do likewise." 12Even tax collectors came to be baptized, and they asked him, "Teacher, what should we do?" 13He said to them, "Collect no more than the amount prescribed for you." 14Soldiers also asked him, "And we, what should we do?" He said to them, "Do not extort money from anyone by threats or false accusation, and be satisfied with your wages."

15As the people were filled with expectation, and all were questioning in their hearts concerning John, whether he might be the Messiah, 16John answered all of them by saying, "I baptize you with water; but one who is more powerful than I is coming; I am not worthy to untie the thong of his sandals. He will baptize you with the Holy Spirit and fire. 17His winnowing fork is in his hand, to clear his threshing floor and to gather the wheat into his granary; but the chaff he will burn with unquenchable fire." 18So, with many other exhortations, he proclaimed the good news to the people.