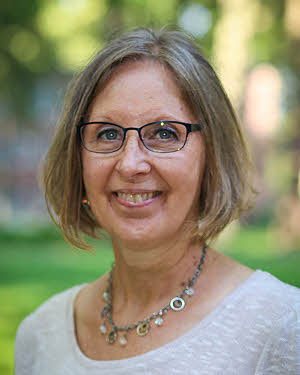 By Ruth Hochstetler, Good Library day circulation manager
Scripture: John 19:16-30 (NRSV)
My husband's aunt died recently. At the funeral, a grandson read the tribute his mother had written about his grandmother. His voice was steady and unfaltering as he shared with us the eulogy; words a grieving daughter found too difficult to speak for herself. Next, a son-in-law shared the story of how the family gathered together on that last day, not knowing when the final breath would occur, but hoping to be with her in that moment. The details were touching as family members each knew to come or were summoned to come in time to share this life event together. The speaker affirmed that God's timing had been beautiful; a treasure in the midst of sorrow.
We see Christ in his final moments before death. His mother, his aunt and a handful of friends are there, staying… waiting… drawing near. In spite of agonizing pain, Jesus speaks one last love message, entrusting his mother to the care of his beloved friend, John, who agrees to provide a home for her. We're touched deeply and marvel at this love. It's this same great love of God that sent Jesus to be the atoning sacrifice for our sins.
As we believe and draw near to the cross today, how comforting to know Jesus is still providing a home for those he loves. Our eternal home will be glorious, but even now he makes his home in us as breadwinner, protector, companion and care-giver. He designs and executes renovation and remodeling for hearts that need transformation. His careful maintenance purifies and purges.
How comforting to know Jesus is acquainted with suffering, grief and death and can give us help and hope in our times of pain and loss. This is God Immanuel, God with us.
Jesus, thank you for making this Friday 'good', as we commemorate your death and amazing love for us.
Scripture: John 19:16-30 (NRSV)
Then he handed him over to them to be crucified. So they took Jesus; 17and carrying the cross by himself, he went out to what is called The Place of the Skull, which in Hebrew is called Golgotha. 18There they crucified him, and with him two others, one on either side, with Jesus between them.

19Pilate also had an inscription written and put on the cross. It read, "Jesus of Nazareth, the King of the Jews." 20Many of the Jews read this inscription, because the place where Jesus was crucified was near the city; and it was written in Hebrew, in Latin, and in Greek. 21Then the chief priests of the Jews said to Pilate, "Do not write, 'The King of the Jews,' but, 'This man said, I am King of the Jews.'" 22Pilate answered, "What I have written I have written." 23When the soldiers had crucified Jesus, they took his clothes and divided them into four parts, one for each soldier. They also took his tunic; now the tunic was seamless, woven in one piece from the top. 24So they said to one another, "Let us not tear it, but cast lots for it to see who will get it." This was to fulfill what the scripture says, "They divided my clothes among themselves, and for my clothing they cast lots." 25And that is what the soldiers did. Meanwhile, standing near the cross of Jesus were his mother, and his mother's sister, Mary the wife of Clopas, and Mary Magdalene. 26When Jesus saw his mother and the disciple whom he loved standing beside her, he said to his mother, "Woman, here is your son." 27Then he said to the disciple, "Here is your mother." And from that hour the disciple took her into his own home. 28After this, when Jesus knew that all was now finished, he said (in order to fulfill the scripture), "I am thirsty." 29A jar full of sour wine was standing there. So they put a sponge full of the wine on a branch of hyssop and held it to his mouth. 30When Jesus had received the wine, he said, "It is finished." Then he bowed his head and gave up his spirit.