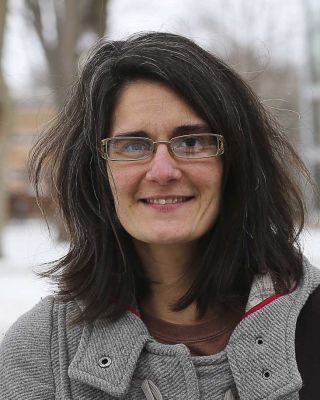 By Suetta Miller, a junior molecular biology/biochemistry major from Goshen
Scripture: Romans 1:1-7 (NRSV)
As we ponder God's restorative power in the Gospel, it is worthwhile to listen to the words of the apostle Paul, servant of God, as Paul describes the Gospel of Jesus Christ. At the beginning of Paul's book to the Romans, Paul describes himself as a servant set aside for the Gospel of God, the "Good News." This Good News was promised to humanity through prophets who spoke and wrote truthful, holy words. This Gospel relates to Jesus, the one who came to restore and to heal and to save; this is good news! Paul, as a servant of this Good News about Jesus the Jewish Messiah, the One Who Saves, wanted the Christ-followers in Rome to know that Jesus had given him grace and had appointed Paul to call all the Gentiles (non-Jews) to the obedience that comes from faith in God.
When we believe God fully, it is not difficult to follow his way of holiness, the way of his heart. God's heart is revealed in the life and words of Jesus, and when we realize his love, a faith and a worship of Jesus as the Son of God follows readily. It was the Spirit of holiness that appointed Jesus as the Son of God, in power, confirmed to be powerfully so by his bodily resurrection from the dead. We can point to the coming back to life of Jesus as visible evidence of Jesus' position as Son of God and of his ability to powerfully save. Paul tells the Gentiles in Rome that they are called to belong to Jesus Christ and that they are loved by God, called to be his holy people. In reflecting on this Good News, let us continue to live in awe and faithful obedience.
Scripture: Romans 1:1-7 (NRSV)
Paul, a servant of Jesus Christ, called to be an apostle, set apart for the gospel of God, 2which he promised beforehand through his prophets in the holy scriptures, 3the gospel concerning his Son, who was descended from David according to the flesh 4and was declared to be Son of God with power according to the spirit of holiness by resurrection from the dead, Jesus Christ our Lord, 5through whom we have received grace and apostleship to bring about the obedience of faith among all the Gentiles for the sake of his name, 6including yourselves who are called to belong to Jesus Christ, 7To all God's beloved in Rome, who are called to be saints: Grace to you and peace from God our Father and the Lord Jesus Christ.