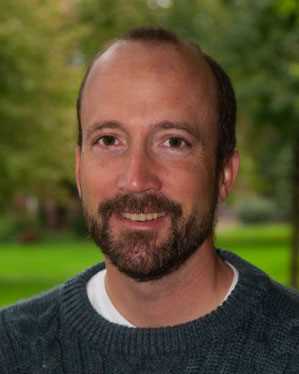 By Jonathon Schramm, associate professor of sustainability and environmental education
Scripture: Philippians 3:4b-14 (NRSV)
Like a good physician, Paul offers us a crucial "good news, bad news" diagnosis in today's passage, and, just as I prefer to hear it at my doctor's office, he starts with the bad news. Or at least, verses 4-7 represent a tough pill to swallow for those of us who imagine that we have success in this life all figured out. In terms of living a righteous life, Paul's credentials were impeccable; his qualifications for contributing to God's work would have been obvious to all in his community. Similarly, I know it can be all too easy for me to feel content with the achievement of worldly markers of hard work, diligence and success. Yet I must grapple with the fact that these markers can be lost just as readily, and in fact, their achievement is "like rubbish" compared to the achievements in God that truly last. And here, as Paul transitions to the good news again, we read in beautiful prose of that one enduring achievement that we can strive towards in confidence: to gain Christ, and be found in him.
Thus, we must be prepared to forget what is behind (v. 13), not only those things we'd like to forget, but also those things of which we are the proudest. Dwelling with them will not help us to follow our dynamic, resurrected savior!
Lord, may you help us all to follow you in humility and joy, straining like racers to follow you on the upward call of God!
Scripture: Philippians 3:4b-14 (NRSV)
even though I, too, have reason for confidence in the flesh. If anyone else has reason to be confident in the flesh, I have more: 5circumcised on the eighth day, a member of the people of Israel, of the tribe of Benjamin, a Hebrew born of Hebrews; as to the law, a Pharisee; 6as to zeal, a persecutor of the church; as to righteousness under the law, blameless. 7Yet whatever gains I had, these I have come to regard as loss because of Christ. 8More than that, I regard everything as loss because of the surpassing value of knowing Christ Jesus my Lord. For his sake I have suffered the loss of all things, and I regard them as rubbish, in order that I may gain Christ

9and be found in him, not having a righteousness of my own that comes from the law, but one that comes through faith in Christ, the righteousness from God based on faith. 10I want to know Christ and the power of his resurrection and the sharing of his sufferings by becoming like him in his death, 11if somehow I may attain the resurrection from the dead. 12Not that I have already obtained this or have already reached the goal; but I press on to make it my own, because Christ Jesus has made me his own. 13Beloved, I do not consider that I have made it my own; but this one thing I do: forgetting what lies behind and straining forward to what lies ahead, 14I press on toward the goal for the prize of the heavenly call of God in Christ Jesus.