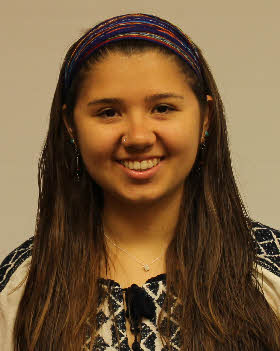 By Gabby Castañon, a sophomore environmental science major from San Antonio, Texas
Scripture: Psalm 126 (NRSV)
Prior to college, the infamous Goshen gray that people warned about served merely as a mystery. As a born-and-raised Texan, I truly questioned how any place could be gray for more than a day or two. Several months with only slight traces of sunlight seemed strange, yet intriguing. Now in the midst of my second winter, I recognize that no paper description could have prepared me for Goshen's grueling gray. This winter must be lived and experienced, because it is not only a physical scene, but a complete emotional sensation. Since I still remain a novice in the winter department, a retreat home is always a good idea, especially during mid-term break.
A voyage home in the middle of winter is like a dream manifested into reality. While wandering along the river walk, gentle breezes accompanied by the sun's warmth restore my soul and revive happiness within me. Upon further exploration of the city, harsh scents of urine mask the aroma emitted by the freshly blossomed Mountain Laurel trees and I am reminded of poverty's presence. A woman near the bus stop calls out to me, "Mija, can you help me read this map?" She explains she cannot read well and needs to ensure she is on the correct route to the doctor's office. Her situation renders true for many as they seek relief from the poverty stricken desert. I struggle to balance selfish feelings of joy in a city and world where poverty holds such prevalence. How can we restore the hearts of those walking alone, so that we may all share in the Earth's abundance?
Scripture: Psalm 126 (NRSV)
When the Lord restored the fortunes of Zion, we were like those who dream.

2Then our mouth was filled with laughter, and our tongue with shouts of joy; then it was said among the nations, "The Lord has done great things for them."

3The Lord has done great things for us, and we rejoiced.

4Restore our fortunes, O Lord, like the watercourses in the Negeb.

5May those who sow in tears reap with shouts of joy.

6Those who go out weeping, bearing the seed for sowing, shall come home with shouts of joy, carrying their sheaves.