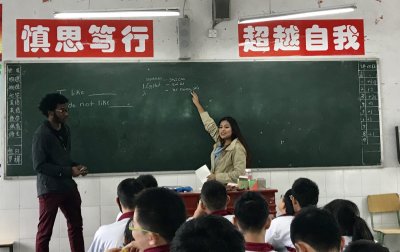 A highlight of our second round of visits was watching each SSTer in action in the classroom. We reversed the order this time, beginning with a bus trip to Yilong early Wednesday morning. We arrived at Virtue Middle and High School in time to observe Skye and Andrew L teach their third class for the morning. After a brief meeting with the school director to express thanks for providing these internships, we then watched Elsa and Matthew in their fourth morning class. Both pairs used the topic of "hanging out" as an opportunity to share and compare cultural patterns for leisure time and for vocabulary and conversation practice.
We enjoyed a lunch of some of our favorite Sichuan dishes in a nearby restaurant and then settled in to visit for a couple more hours in one of the Yilong group's favorite tea shops.
We began the next morning in Langzhong with observation of Abe and Carter teaching at East Wind Middle School. Their lesson focused on American geography and sports and was marked with energetic vocabulary practice and a lively game to test knowledge. After a meeting with the school administrator in charge of foreign teachers, we found Yadira and Cornelius who were teaching a session on expression of preferences. Using fruit and vegetable vocabulary within various planned activities, students practiced explaining their likes and dislikes in English.
For lunch Abe recommended a small restaurant that serves Chinese-style barbeque (烧烤, shāokǎo). He had earlier communicated that if we had limes we might even feel we were eating Mexican food. So we brought limes to squeeze over delicious pork, beef and chicken wrapped in lettuce.
We next observed Amy and Emily teach an afternoon class focused on ideas and vocabulary surrounding morning routines. They effectively used props, demonstration, and charades to challenge the students' knowledge. We ended the visit with relaxed conversation in the Langzhong group's favorite coffee shop in the ancient city.
On our Friday morning train trip to Guang'an we were joined by Christian, who is now settled into his own internship at Peace in China, an organization that provides peace training along with English lessons and test preparation here in Nanchong. Peace in China is owned by our program assistant Wang Ying, who along with her family is also now hosting Christian in their home. Christian was planning to be part of the Guang'an group before he broke his ankle, so we were glad he could join us on our second visit there.
In Guang'an we met with the Friendship Middle and High School director as well as several of the English teaching staff. They invited our full group to a hot pot lunch featuring mutton, a traditional dish as winter arrives. The lunch included many toasts of buckwheat tea celebrating exchanges between US and China.
After lunch the Guang'an group gathered at a lovely coffee shop recently opened by their new friend Annie. We ended our time there with an unexpected and delightful tea ceremony provided by Annie before we caught an early supper of Korean barbeque. Each SSTer had two classes to teach that evening – we first observed Lexus and Mia present a lecture on popular culture and then watched Christi and Andrew lead a session on using music to learn English. We were amazed at how attentive the Guang'an students were at the end of a long day of classes.
Although there were several differences between the schools, the demands on Chinese students are similar with classes beginning at 7:30 a.m. before a long break at noon. Classes generally meet again from 2:30 – 5:30 followed by a short supper break and then evening classes. High school students are also in school for most of the day on Saturday, with Sunday designated for lessons in arts or athletics. As you can see in some photos, high school students leave their school materials carefully stacked in their classrooms instead of in lockers or at home.
We were so impressed with how the SSTers teaching skills have developed in such a short time. We saw a lot of "no-tech creativity" in Yilong and Langzhong; teachers can be remarkably inventive with chalk, blackboards and a few inexpensive props. In Guang'an the SSTers used available smart boards with ease and skill, but were careful not to over rely on technology.
In addition to gaining teaching experience in a cross-cultural setting, SSTers are navigating how to best function as co-instructors, finding ways to handle large classrooms full of different learning styles, and assessing what students already know and would benefit from learning. Each director emphasized how hard the Goshen interns are working and that they would welcome more in the future.
Our eyes widen and heart rates pick up a bit when we remind each other that there is only one more week of the service portion of SST in China. SSTers will travel back to Nanchong on Friday and stay with their first host families for a couple nights before we leave on our culminating excursion to Leshan, Chengdu, Xian, and Beijing.