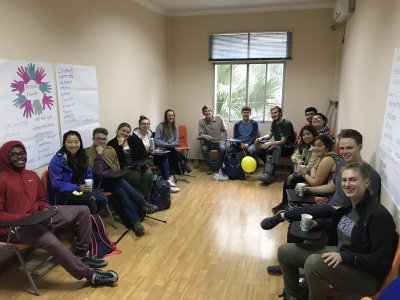 Goodbyes on service led to reunions in Nanchong and then more goodbyes as we left on our final excursion. It felt strange to turn in our keys and bus cards and know we were making a one-way trip this time.
Before this final farewell to Nanchong, SSTers regathered at our apartment on Friday for Dale's tomato soup and grilled cheese sandwiches. In-between two nights with the Nanchong host families we met Saturday at Peace in China for the students' final presentations on a range of research topics about China: Film Entertainment, Interaction between Confucianism and Communism, Beauty Standards, Feminism, Christianity, Food Waste, Media Censorship, The Military, Food Production, Treatment of Animals, Alcohol and Tobacco Use, Attitudes towards Japan, Characters and Language Acquisition, Fashion, and Children and Parental Redemption.
On Sunday morning the Nanchong host families brought the SSTers to old campus for an early and rainy departure (a pattern for us, it seems!) With Wang Ying, our local coordinator, joining us for the journey, we first traveled west by bus to Leshan, home of the world's biggest carved stone Buddha. At 71 meters tall and built during the Tang Dynasty more than 1300 years ago, the Leshan Giant Buddha is one of China's many UNESCO World Heritage sites.
Our bus for the day then delivered us north to Chengdu to settle in to our hostel for two nights. On Monday morning we visited the Chengdu Panda Research and Breeding Center, home to some of the world's less than 2,000 giant pandas. We saw plenty of panda cubs and red pandas too, as we walked through the beautiful park.
On the way home from pandas we exited the subway at "Wide and Narrow Alley" (Kuan Zhai Xiang Zi), an area of the city that dates back to the Qing Dynasty (1644-1911). Marked by three parallel ancient alleys and dozens of courtyards between them, Kuan Zhai Xiang Zi was a lovely place to find lunch and enjoy free time. Later that evening we walked to a restaurant for "dishes" (short hand term for Sichuan cuisine other than hot pot, noodles, or dumplings) and then to a nearby theater to experience Sichuan opera. The show was not just one opera but rather a collection of delightful acts including traditional instrument solos, acrobatics, opera scenes, an amazing 10-finger shadow puppet demonstration, and more.
Tuesday morning brought time to rest and explore before we gathered for lunch and a short meeting to prepare for our first of two overnight train rides. Wang Ying gave us a practical overview of what to expect, and encouraged us to embrace the uniqueness of the experience. I shared a description of the 1983 China SST train ride from Beijing to Chengdu from a friend in that group. She described the train ride, then on a steam locomotive, as "noisy, dirty, tiresome, and beautiful." I wonder how we will remember our overnight train travel in China 25 years from now.