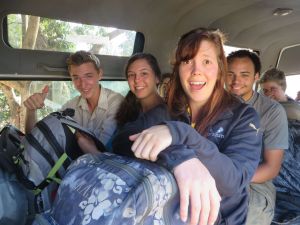 I am writing on Monday evening having finally hung the last mosquito net in our new house and Isaac and Mara are tucked in.  We are living in a house on the campus of the Mennonite Theological College of East Africa (MTCEA).  Of course it is not only we who are settling in to a new home, all the students are doing the same this evening.
The day was a good one.  It started with a flurry of daladala trips to the main bus stand in Musoma where groups of students caught their buses to the various villages in which they will spend the next five weeks.
It was an emotional morning as students said goodbye.  They were filled with anticipation, excitement, and a few nerves as they began this new chapter of SST.  Students are spread over the Mara region which extends from the Serengeti National Park to Lake Victoria. There are four students in Musoma (Annaliese is at MTCEA, Bri, Melanie and Kelsey are in town); Alicia is in Kiabakari (about 30 minutes out of town); Jama, Jordan and Ellie are in Nata; Alia is at Ikoma Cultural center (between Nata and Mugumu); Katrina and Twila are in Mugumu; Jenna and Lynelle are in Kemgesi; Jess and Evan are living in Nyarero; Eva and Andre are in Mogabiri; Rachel, Seth Y. and Seth M. are in Tarime; and Ida, Daniel and Jared are in Shirati.
It was fun to receive text messages this afternoon from students indicating they all arrived safely and are happily settling in.  For the next week and a half, we'll let them settle into their routines before we start our visits.  In the mean time, this week you can expect posts that provide more details about our safari from Dar to Musoma.  Stay tuned.
– Ryan for the team