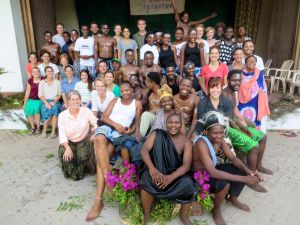 We spent this weekend in Bagamoyo, a town about an hour north of Dar es Salaam also directly on the Indian Ocean.  The town is much smaller than Dar, but was the setting of some major historical events in Tanzania's history. On Saturday morning we met at the Mwenge bus stand in Dar, then took a daladala to Bagamoyo where we spent the first half of Saturday resting and relaxing on the beach.
Bagamoyo is currently known for its dhow boat industry, art college, and tourism. In the evening we walked to the Bagamoyo College of the Arts for a dance and singing performance specially prepared for our group.  We were treated to 30 minutes of traditional drumming, dancing, and singing, with the culmination being a group dance that included the Goshen students on the stage!  We returned the favor to Professor Christa and her students by offering a song in return – Praise God from Whom all Blessings Flow.  It was an energetic, warm, engaging cultural interchange! Saturday evening we returned to our hotel for a buffet dinner, which included a birthday cake for Donna, whose birthday was Sunday.  Happy Birthday Donna!
On Sunday morning we took a tour through Bagamoyo to visit various historical sites, with the first stop being Kaole ruins.  These ruins date back to the earliest Shirazi Arab settlement from the 13th-14th century, demonstrating the trade and connection Bagamoyo had with the broader world.  We also visited Stone Town in Bagamoyo, where slaves were housed as they were brought from the interior to the coast where they were shipped via dhow to Zanzibar.  Our guide indicated that 50,000 slaves per year went through Bagamoyo, totaling around 1 million through the several decades when the slave trade was at its peak.
After colonization by the Arabs, the Germans arrived in Tanzania in the early 1900's and set up their capital at Bagamoyo due to its proximity to Zanzibar and its port.  (It was later moved to Dar es Salaam).  In 1871 the first Christian missionaries in East Africa arrived at Bagamoyo and set up the first church, which we had the opportunity to visit.  We also saw the location where David Livingstone's body was kept overnight before being sent to England via Zanzibar.
We came away from Bagamoyo dazzled with the breadth of history enshrined in its ruins and even its people (up to 50% of the slaves stayed along the coast and Zanzibar). Images of lively singing and dance remind us of the resilience of the human spirit and the hope embodied in creativity and art.  The juxtaposition of Bagamoyo's dark history, its stunning natural beauty, and its dynamic and growing art community are testament to the complexity of the human story.
– Ryan for the entire team