Unit House and Music Festival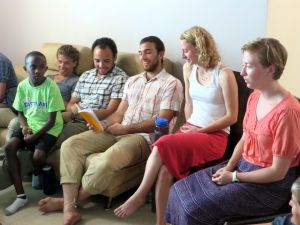 On Wednesday we gathered at 'nyumbani kwetu' (our house) for the weekly unit house meeting. We celebrated two birthdays (Alia's and Jenna's) with ice cream! Students shared how their weeks have been going, we sang hymns from the Tenzi za Rohoni (the KMT swahili songbook), and we discussed the curricular themes we've been exploring this week. One of these themes has been identity: how Tanzanians formed a national identity during independence, how GC students feel this experience so far has helped them articulate and frame their own identity, and what their host families feel is most important to their identity.
Students were asked to identify for themselves the first thing that defines their identity -is it being American, Mennonite, Christian, "Yoder", student…. etc.  They were also charged with interviewing their host families to inquire as to what is most important to them – nation, religion, race, tribe, or family?  This dialogue has provided some rich observations, a few of which are paraphrased below:
I am sensing my identity is changing already after 1 week! I thought I was a global citizen, I am now realizing I am also an American

and

a global citizen.
I have been inspired how Tanzanians are so collective in their identity – framing identity mostly in terms of family, something I want to think more about. My identity to date has been so independent.
What I value as my identity isn't obvious here and takes lots of explaining – the first thing people project onto me is my being a visitor or American – but my identity is so much about my ideology and worldview.
Wednesday night was also a special night because we arranged for the students to all stay in town at the YMCA so they could attend a musical festival at the Alliance Francais, a cultural center in downtown Dar. We were treated to a short documentary film, a dance troupe, and an African Bantu band.
Today's lecture at the UDSM was by Dr. Oswald Masebo (history department) who gave a wonderful overview of the colonial period leading up to independence – 1875-1961. This led to a very interesting discussion regarding the major forces that spawned the colonial period – with emphasis on economic exploitation as a key driver.  As we've been reading in our book Taifa, "the formation of national identities leads to the exclusion of others" and the colonial powers projected identities of "native" and "non-native" onto ethnic groups, thereby limiting their economic power. The idea of identity continues to unite much of our recent discussions!
– Ryan