Service location: Kaolack & Toubacouta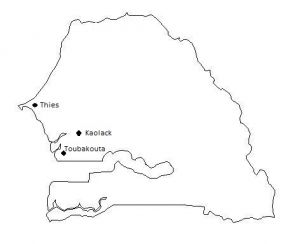 Andrea, Alysha, Katie, and Kristina are working with an organization called "10,000 Girls" which is headquartered in Kaolack. They spent 2 weeks of their time helping with camp activities in Toubacouta which is about 2 hours south of Kaolack, near the border with Gambia.  They jointly wrote the following description of their activities.
Immediately upon arriving in Kaolack, we were thrown into preparations for a two-week summer camp for teenage girls from all around Senegal.  This educational camp is run by 10,000 Girls, an American women's organization.  We all worked for two weeks with a lot of other American volunteers to compile the curriculum centering on democracy and the environment.  Then we headed to Toubakouta, the village where the camp took place.
Our initial work paid off each day that we spent with the girls.  They had fun with most of the classroom activities, crafts, and games that we had planned.  Our favorite times were the spontaneous dance parties that occurred several times each day.  These happened either at the school where we spent each day or at the hotels where we were all spread out living with the girls.
Having said tearful goodbyes to our girls at the camp, we're now back in Kaolack for the remaining two weeks of SST.  Katie will be assisting with a film project intended to teach girls how to use technology and raise awareness about 10,000 Girls.  She will also be working to make sure that the project  is sustainable in Kaolack.  Alysha, Kristina, and Andrea will all be working with the Bookmobile, a traveling library intended to increase literacy in Kaolack and the surrounding villages.
In these last two weeks, we hope to spend a lot of time with our host families, who we haven't seen too much of because of being away at the camp.  We can't believe how quickly our time has gone by on service, and we look forward to meeting up with the rest of the SST group in Dakar!
Photo credits:  Alysha, Kristina, Ron, Sally Jo