Service Location: Saint-Louis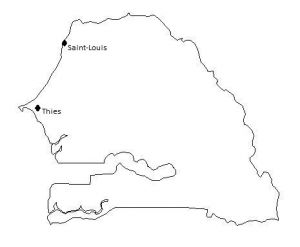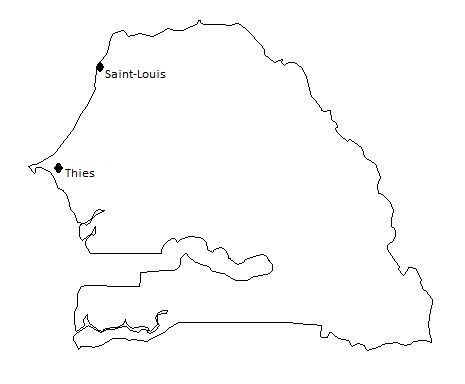 Five students have service assignments in, or near, Saint-Louis located at the mouth of the Senegal River on the border with Mauritania. Adrienne, Mallori, and Jon work with a church organization providing educational assistance to women. Molly and Paul work with a government supervised agricultural project connected to the University. Excerpts from their recent journal entries give some insight into their experiences.
Adrienne
I am working at this women's education center that works in connection with the church I attend.  My mother is in charge of it.  It aims to teach women skills they can use within the home and skills they can use for a particular profession.  So far there is a 100% employment rate for those who've graduated.  So the program is really successful.
Mallori
Each day is different.  Adrienne and I have been given a variety of things to do and, in most cases, we don't know what our assignment is until that morning.  Adrienne and I are assigned to teach English and aid Jon in teaching computers.  For our English classes we are teaching several different groups.
Jon
At 9 a.m. I meet up with Adrienne and Mallori who either teach English or assist me in teaching computers.  We unlock our classrooms and go and start all the computers of which there are four.  One of the computers never wants to boot. … The computers are older than anything I've worked with.  They're older than my first computer which I got in 1999.  Shortly after all the computers are on our first group of students will show up for the day.  We're never sure who is going to show up so creating lesson plans is out of the question. After practicing on a typing program, which I installed, the students have the option of leaving or staying and attempting to do something on the computer which they wish to learn.  It should be noted that none of these computers have the internet so the only programs I can teach are Microsoft Office.
Paul
My day begins around 6:30 a.m. when I get up, eat, shower, and head out on my 1.5 mile trek to the taxi station.  There I wait until the taxi fills with enough people.  I get to the farm somewhere around 8 a.m., greet everyone, find Molly, and begin working.
Molly
The first ten days of work we trimmed wind breakers which consisted of lime trees and other bushes/trees with so many thorns.  We took little breaks here and there and once had ataayaa (Senegalese tea) with the other workers.  We finish work every day at noon and go back home for lunch.  After lunch we visit with family, read, etc.  … It's been fine and I like manual work. It's just repetitive.  C'est la vie.
Photo credits: Adrienne, Mallori, Paul, Ron