Departing for Service Assignments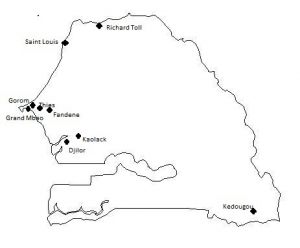 On Saturday, 12 June, students departed Thiès for service assignments scattered throughout the country.  There was excitement and nervousness in the air as good-byes were said. Some farewells with host family members were difficult and emotional.
Sally Jo and Ron plan to visit each service location about halfway through the next six weeks.  At that time we plan to post more information and photos from each place.  For now, here is a list of students and their locations.
Richard Toll: Erin, Leah
Saint Louis: Molly, Paul, Jon, Mallori, Adrienne
Grand Mbao : Mary, Kristin
Goram : Olivia, Mayra, Aaron
Kaolack : Kristina, Alysha, Andrea, Katie
Kédougou : Josh, Noah
Djilor : Rosanna, Lindsay
Fandéne: Jeff, Chris
Thiès: Patrick