Happy 100th birthday, Mary!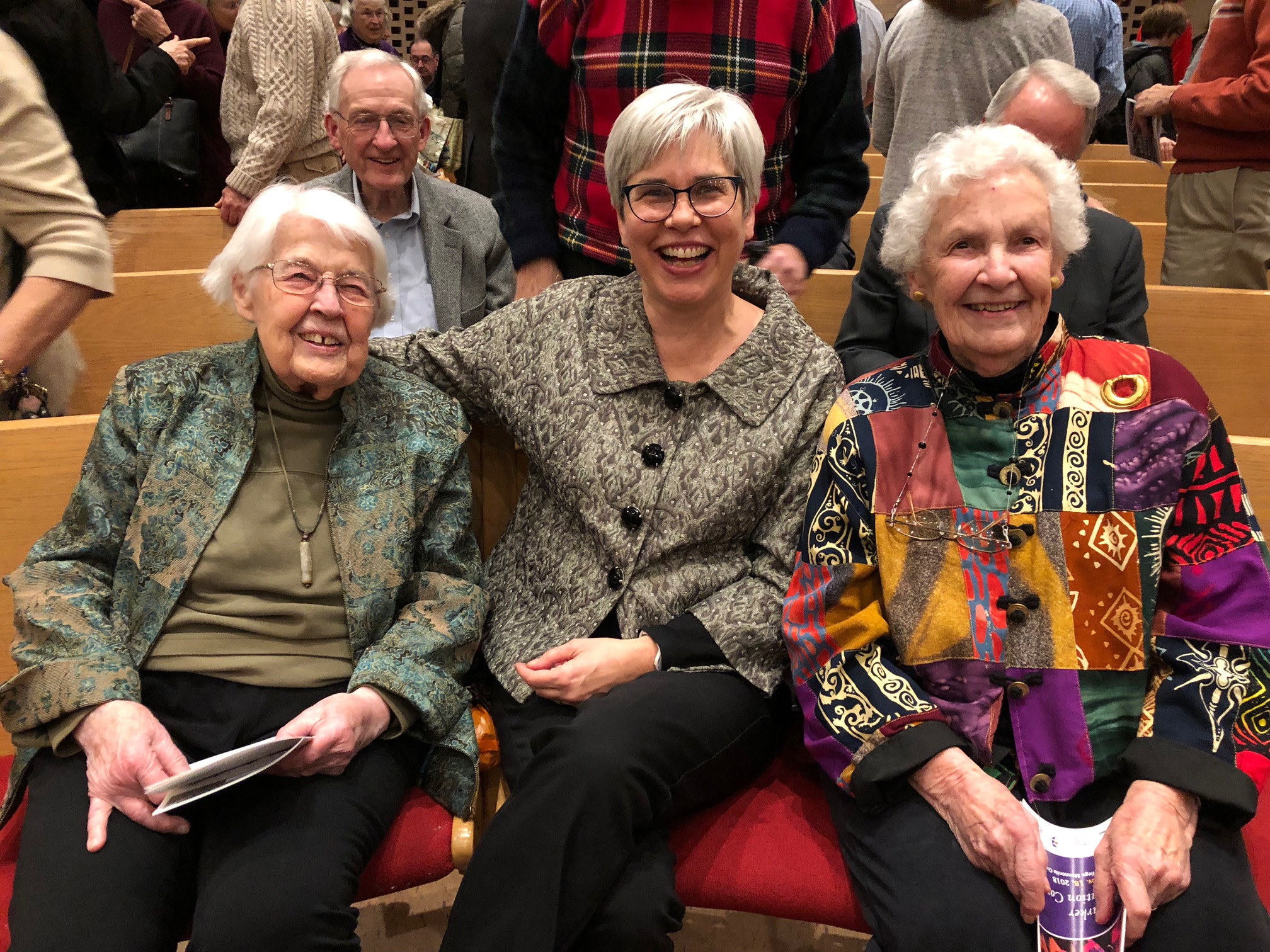 One of my favorite questions to ask alumni is: "Who is the person who was most influential to you from your time at Goshen?" For our older alums, the most common answer is Mary Oyer, professor emerita of music, who taught from 1945 to 1987. For many first-generation students who came to GC from rural communities, taking 'The Arts with Mary Oyer' opened their minds and hearts to the world — not only the world of music and art, but also civilizations and history.
And she was tough. Many alumni recall decades later the grade they received from Mary.
Five years ago, when I was a new president, I took Mary out to lunch to celebrate her 95th birthday. It was my first opportunity to have a personal conversation with Mary since I graduated from Goshen College in 1983, when Mary was still a professor. At that time, I knew Mary best from the semester during which she directed the Chamber Choir while Professor of Music Doyle Preheim was away. I was the accompanist to the choir.
I recall my semester under Mary's direction with great respect, and also some embarrassment and regret. Mary's attention to detail in our music-making was extraordinary, especially when it came to intonation. She relentlessly tuned our intervals. She would also turn to me at the piano and give me detailed instructions in front of the choir, and would wait for me to pick up my pencil and write it down before turning back to the singers. I vividly remember one rehearsal in which I chafed at her discipline and made it apparent. I suspect I was not the first such student.
Nearly 40 years later, sitting across bowls of Vietnamese pho with Mary, I was prepared to apologize. I had even rehearsed my words. But that moment never came; it was not needed. Mary was relaxed, generous and joyful. Perhaps she did not remember that rehearsal, or connect that truculent pianist with me. In any case, it was not what she wanted to talk about. As I asked about her life, she told stories filled with discovery and gratitude.
She spoke about her choice to stay at Goshen College after she graduated from the University of Michigan, the first string player to receive a doctorate in performance practices. She said with no regret, "I decided to come down from the mountain." Mary is extraordinarily talented and could have kept climbing the peaks of the musical elite. But she chose to bring music to students like me, and to bring world music to GC and Mennonite congregations through her work in the church. This is Mary's legacy — truly "Culture for Service."
Mary transformed her students, Goshen College and the Mennonite church. Former president Jim Brenneman spoke of Mary as a "contrary revolutionary." He wrote that there was Mennonite music-making "'Before Mary Oyer' and 'After Mary Oyer.'" This month on April 15, our Music Department will present the annual Earthtones concert, including a brief tribute to Mary. You are invited to join the livestream if you are not able to be with us in person. Let us not take for granted the astonishing breadth of world music and level of artistry that now characterizes the music of Goshen College.
And today we celebrate her 100th birthday. Happy birthday, Mary Katherine Oyer! We are blessed to be stewards of your legacy.
Rebecca Stoltzfus