Laura, Lydia, Shina and Trevor: Serving in the Selva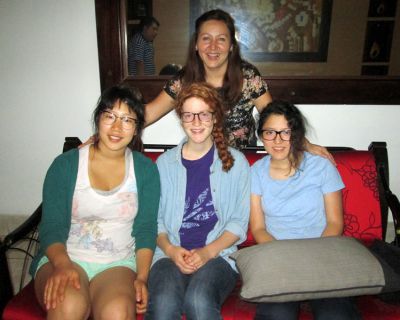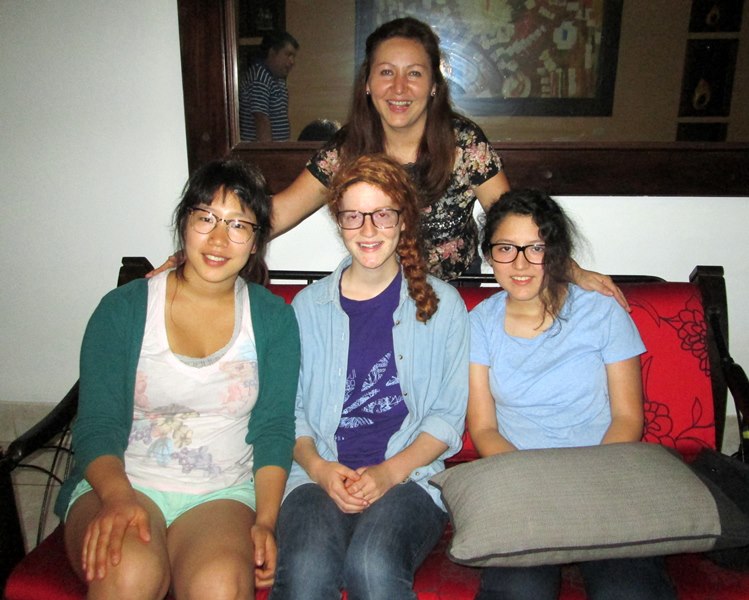 We left Lima by bus in the late morning, bound for the jungle gateway towns of San Ramón and La Merced. In miles, the trip is not so far. But there is a punishing climb en route. The highway to this part of the Peruvian selva central, or central rain forest, requires crossing the Andes at Ticlio, which brushes the clouds at 15,807 feet (4,818 meters).
Laura and Shina were waiting for us when we arrived around 9 p.m. at the Gad Gha Kum El Mensajero Lodge, just outside  San Ramón, where they are living in a bungalow during the service term. Their Italian-Peruvian host family (Del Aguila Gerbi) owns and operates the lodge and has, in recent years, been taking in Goshen students as part of their extended family. While there, we were able to visit with sisters Carolina and Rocio.
Over the next two days Shina and Laura showed us around, including a 20-minute walk to a waterfall on the lodge property. On the way, we disturbed several large butterflies that flew away, appearing to glow in the dark. We also passed workers who were harvesting avocados, bound for a market in Lima. All is lush and green here. Rain fell both days that we stayed at the lodge.
Our first day, we visited INABIF (Programa Integral Nacional para el Bienestar Familiar), a government-funded program that assists low-income families. Shina and Laura work with children who come to the center before or after school to eat a hot meal, take part in activities and programs, and get help with their homework. The academic work ranges broadly: in the span of one minute, Laura was helping a student with an algebra problem while Shina (by request) spelled a child's name in Korean.
Earlier that same day we visited the Centro de Educación Especial San Manuelito (San Manuelito Special Education Center), a school for special needs children located a short walk from INABIF.  The school receives government funds to care for children diagnosed with Down syndrome, cerebral palsy and other developmental disorders.
Trevor is assisting with physical therapy. When we arrived, we found him leading 5-year-old Alejandro through a series of walking exercises. "It's so much fun coming to work each day," said Trevor, who plans to become a professional physical therapist. "The dynamics are different with each child."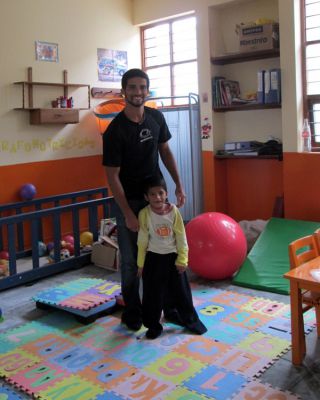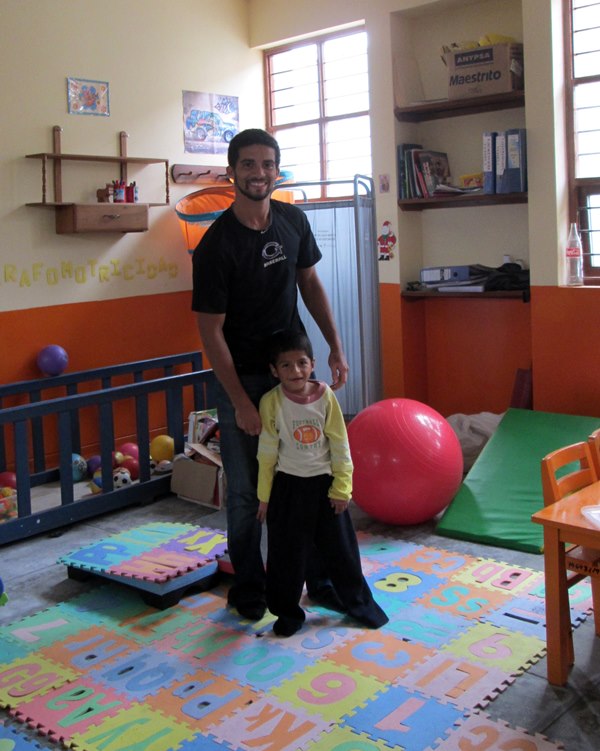 A sign in his classroom said: "Demos importancia a la persona y no a su discapacidad" ("We ascribe importance to the person and not to his or her disabilities"). The 16th of October was Día de la Persona con Discapacidad in Peru.
That evening we sat around the kitchen table with Trevor's host family members, Jeny and Carlos, enjoying bread and coffee. Jeny was soon off to her night shift as a nurse at the Elera Clinic. The family is passionate about volleyball, which they play each afternoon at 4 p.m.; Trevor set aside his first love, baseball, to take up voley.
The next day we took a shared taxi, or colectivo, to Oxapampa, a city of 10,000 that is known for its blend of European, indigenous and Peruvian cultures (colonists from Germany and Austria's Tyrolean Alps settled here in the late 19th century). Lydia's  host mother, Teofila Espinoza Nieves, invited us for a lunch of pachamanca, a Peruvian feast that features chicken, beans, platanos and an assortment of potatoes, all cooked together (usually in an earthen "oven").
Lydia works each morning at Jardín de Ninos Los Jazmines (Jasmine) preschool and kindergarten. The school features a play-based curriculum, an innovative approach that is new to most of the children's parents. During our visit, Lydia, or Profesora Lydia, drilled a group of 5-year-olds on signs they had learned the day before for fruits and letters in Peruvian Sign Language. In between classes we admired the display of recycled materials used for planters outside the classrooms.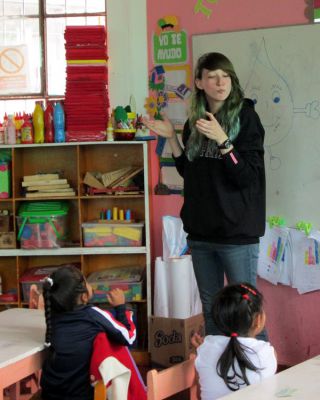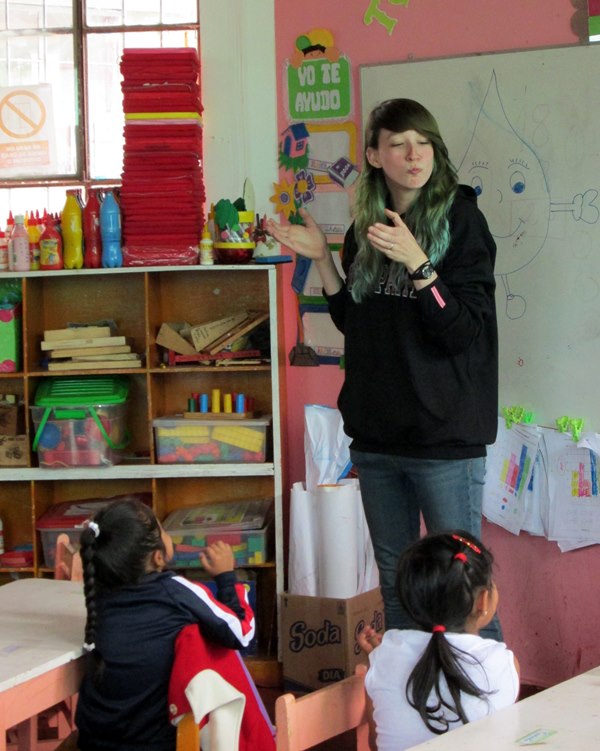 In the afternoon Lydia's mother put us all in a mototaxi to visit Floralp, the region's largest cheese plant, so we could sample some of their delicious cheese and yogurt. Later, Lydia took us on a walk around her peaceful town. The main plaza is adorned with exotic trees and plants, chirping birds, and view of the surrounding mountains. At one end of the plaza sits the church where Lydia's mother attends. Constructed in 1939 in the Tyrolean style, it is the only church in South America that is built mostly of  wood (madera diablo fuerte, or devil wood). Because of this it is known as the only church where God and the devil reside together. For our afternoon snack, we enjoyed coffee and sweets at Felíz Día Pastelería (Happy Day Bakery) near the plaza.
On the return trip to Lima, we traveled by night bus from La Merced. One of the strangest sights is a traffic jam on a high mountain pass at one in the morning because the road is too narrow with all the curves to permit trucks and buses to cross paths at the same time. So vehicles going in one direction need to wait while vehicles in another direction pass; no official is in charge of turn-taking so drivers get testy. Horns were honking at 15,000 feet, when everyone should have been home and in bed.
Photos and editing by Karen Stoltzfus