Serving With Kites, Crossword Puzzles and Bingo
Shina spent six weeks serving at INABIF (Programa Integral Nacional para el Bienestar Familiar), a government-funded program in San Ramon that assists low-income families. She and Laura worked with children who come to the center before or after school to eat a hot meal, take part in activities and programs, and get help with their homework. 
She shares her journal entry on "Agendas and Expectations" in the service workplace.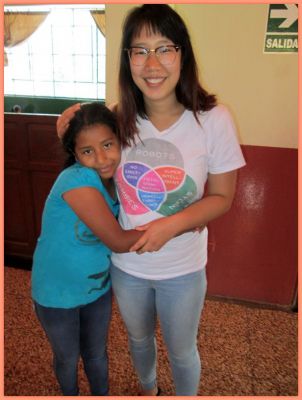 The INABIF building was impossible to miss – geometric, tall and painted solid blue, it was established amid restaurants and grocery stores and provides the presence of a government building in the quaint city of San Ramon. Once Laura and I entered through the iron gates, we were greeted by a swarm of children whose heights reached our waist and below.
Soon after our arrival, I realized that Laura and I weren't exactly needed – the teachers and assistants, clothed in scrubs, provided sufficient help to the children with their homework and meals. However, we were definitely appreciated for our presence with them and our aid with whatever work there was to complete.
Many times the children sought our assistance with their English and math homework. But most of the times, we hung out with them in the cafeteria, drawing caricatures, weaving elastic bracelets, completing crossword puzzles and playing Bingo.
We greeted everyone, and almost everyone had questions for us regarding the U.S. , our studies, our families, love interests, friends and our view of their culture. They were particularly inquisitive about the English language and the U.S. culture, shooting questions whenever an opportunity presented itself as though we were portals to another world – a world which had taken away Joshua, Mariah, Emma, Stephen, their friends (and former SSTers).
More than assistants, we were friends with them – playing Kiwi with the high schoolers in the field, flying kites with the preschoolers, coloring the sidewalk with the pigmented sawdust side by side for "El Día de los Milagros."
Perhaps the younger children have the ability to let go of those they befriended easily, and the older kids the understanding that they should avoid bonding – as they've experienced its consequences in the past. I know, however, that I was aware that we would form relationships, from familiar faces to close friends, and leave them.
Our names would be another addition to the list of previous SSTers who volunteered there – traces of memories. I enjoy working there and am grateful for the opportunity, but I can't help but wonder: "What exactly are we leaving them with?"
Sometimes I wonder what the INABIF staff thinks of us being there – another group of students from the Mennonite school in the States that come periodically throughout the year? These are the unanswered questions.
I have learned so much from them, particularly lessons of gratitude and humility. These children who, in most cases, do not have parents and are obliged to work after school, selling flan or mazamorra morada ( a pudding made from purple corn) on the streets, are so sweet-natured and sincere. They appreciate life's simplest pleasures and work hard in attending school and INABIF daily. I wish I could give them as much as they give me.