Arts of the Informal Economy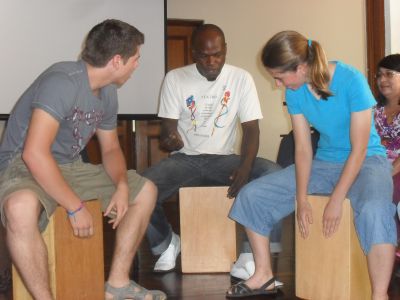 We have developed a series of workshops this semester focused on how artists and artisans — dancers, musicians, cooks and others with particular talents — support themselves.
We began with a workshop on dance by a long-time friend of the program, Pedro Farias.  Before demonstrating dances from the Andes, jungle and coastal regions of Peru, Pedro described what it was like to grow up in a musical family here in Lima.  He started performing at the age of four, traveling often with his parents and siblings to festivals in his family's hometown of Piura.
Next we invited Camilo Ballumbrosio to teach us how to play the cajon, a rectangular wooden drum with a large round hole in the back.  Camilo's family is from Chincha, descended from African slaves who were brought to South America centuries ago.  His father was a well-known zapateo (tap) dancer who taught Camilo and his fifteen siblings how to dance and make music soon after they learned to walk.  Camilo has played in Europe and performs regularly in shows in Lima and festivals along the coast.
Alicia Taipe Tello migrated from a mountain village near Huancayo with her older brothers when she was only nine years old.  She brought with her customs from the Andes, including a practical knowledge of traditional medicine.  She showed us which herbs to brew to make teas to cure a variety of ailments and we enjoyed sampling several blends.  Alicia supplements her income by cooking a variety of Peruvian dishes, such as the seco de carne we enjoyed on the students' first evening here in Lima and the salchicas she prepares for sale outside a school near her home.
After participating in these workshops, we offered each student a chance to select one teacher with whom they wish to work in preparation for the despedida (farewell party) planned at the end of their time here in Lima.  We refer to these as "art electives".   Six students are learning a dance they plan to perform with Pedro, five are learning afro-Peruvian rhythms with Camilo and the rest are developing their culinary abilities with Alicia.  We look forward to watching, listening and tasting what the students come up with when we say our goodbyes to the families next weekend.
How much do artists and artisans such as these contribute to the Peruvian economy?  One of our guest speakers, Juan Infante, led a provocative discussion on the topic of the "informal economy".   He estimates that the income earned by people who must create work for themselves in order to survive — often migrants from the rural areas who came to find a better life here in Lima — makes up 80% of the Peruvian economy.   Mr. Infante questions whether the term "informal" is a good descriptor for the jobs done by the majority of Peruvians, those micro-entrepreneurs who make work where none had existed before.