GC's marine biology program's long history the subject of upcoming GC Talk
GC Talks: Deep Dive: Telling the GC marine biology story
Date and time: Tuesday, Jan. 19, 7:30 p.m. EST
Location: Virtual: Webinar link | goshen.edu/livestream | facebook.com/goshencollege
Cost: Free and open to the public
---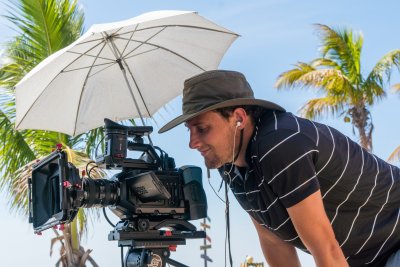 Professors in the Goshen College Biology and Communication Departments will share about the history of marine biology at the college, using selections of a documentary titled "Deep Dive," during a GC Talk on Tuesday, Jan. 19 at 7:30 p.m. This event is virtual and will be live-streamed.
Ryan Sensenig, professor of biology, and Kyle Hufford, assistant professor of communication and FiveCore Media general manager, will use the documentary as a lens to examine the history of the college's marine biology program in the Florida Keys and its future.
"Deep Dive: A Midwestern Legacy in the Florida Keys," tells the story of the college's long standing commitment to education in marine biology, chronicling the 50-plus year history of Goshen College's marine biology program and the relationships built with the Layton, Florida community where the facility is housed.
The documentary is the culmination of a year's worth of work for a team of more than fifteen Goshen College students, and premiered in March 2018.
The film won two Indiana Association of School Broadcasters (IASB) awards, as well as second place for best short film (fictional narrative or documentary) and another second place for best cinematography. The IASB are the top state awards for colleges with media and broadcasting programs.